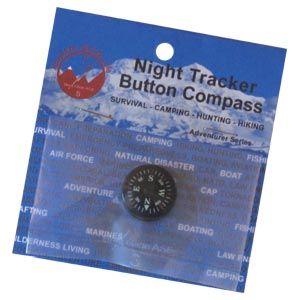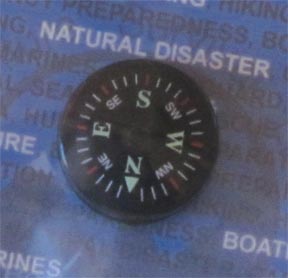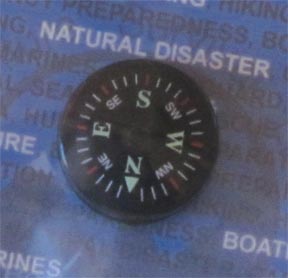 Night Tracker Button Compass
The Night Tracker Button Compass is a glow in the dark, oil filled, water resistant button compass. Simply give the compass face a flash of bright light and the compass points will glow long enough for you to choose your direction and start navigating.

The "N" on your button compass points north. This fact has made the compass useful to hikers and explorers for over 1000 years. There are 360 directions, or degrees, one may travel. The "cardinal degrees" are north, south, east and west. You will note that these are divided by north east, north west, south east and south west.

To navigate:

1. Placing the north seeking needle on "N", choose your desired direction from the compass face.

2. Hold the compass level and away from any metal.

3. Walk in the direction chosen in step #1.

To insure you are walking a straight line, choose your direction, pick an object in the distance, then walk to it. Once there, again hold the compass steady and level, pick an object in the direction you wish to go and start walking. You are now orienteering like an explorer.

Also consider some of our other low cost button survival compasses in the Adventurer Survival Tracker Compass Line: Compact Tracker Button Compass, Mini Tracker Button Compass and the Watch Band Survival Compass.

Please consider that these compasses are not as durable nor precise as larger compasses, such as our line of Brunton Compasses.  Their desirability stems from the fact that they can get you going in the right direction and can be carried just about anywhere, which has always been their intended purpose.  They are perfect for small survival kits, pockets and to attach to the outside of packs, watches and survival gear.