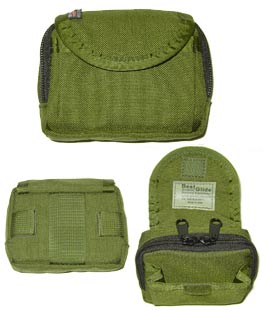 Personal Survival Kit Holder - Red -Best Glide ASE
The Personal Survival Kit Tin Holder is our second generation Personal Survival Kit Holder. It is designed to fit kits measuring a maximum of
4.5" x 3.25" x 1.12". This Survival Kit Holder is made of 1000 Denier Cordura with a 3/4 oz water repellent backing, a YKK Self Healing Zipper, Mil Spec webbing and Mil Spec hardware.
The rear of of the (PSK) Personal Survival Kit Tin Holder is equipped with a belt loop that will accept up to an 2 1/2" belt or strap. Two auxiliary loops allow for additional numerous attachment options, to include a carabineer. An additional lay flat pocket is included under the protective flap for small objects such as a BCB Mini Work Tool, Mayday Signal Mirror, NATO Survival Matches, survival compass or any small item you would like to have easy access to.
The Personal Survival Kit Tin (PSK) Holder is a no nonsense, durable and inexpensive accessory for any small survival, first aid or survival fishing kit to include: the BCB Combat Survival Kit Tin, the BCB Military Survival Tin, the Best Glide Standard or Deluxe Survival Fishing Kit, the Best Glide Survival Kit Tin (empty) and numerous other small survival and fishing kits on the market today or simply to carry your personally designed kit.
DETAILS:
1000 Denier Cordura
Dual YKK Zippers
3/4 oz Water Resistant Backing
Mil Spec Hardware and Webbing
Mil Spec Construction
Main Compartment, 4.5 x 3.25 x 1.12 in
Fold Flat Front Pocket
Zipper Silencing Top Flap
Belt Loop and (2) Aux Attachment Loops
OD Green or Black
MADE IN THE USA
USES:
Survival Kit Pouch
Medical Kit Pouch
BCB Combat Survival Tin Holder
BCB Militiary Survival Tin Holder
BG Survival Fishing Kit Holder
SPOT Locator Carrier
Personal Survival Kit Tin Holder
Ammo Carrier
Cell phone Carrier
Personal Medicine Carrier
many, many more...