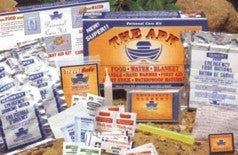 The SuperArk Survival Kit - 3 pack
The Mainstay Super Ark by Survivor Industries is a perfect survival kit to throw into a road vehicle, boat or airplane for those 'just in case' times. The Mainstay Super Ark is small but mighty. The compact Mainstay SurperArk Survival Kit is one of our best sellers and is a perfect item for those who want a vehicle survival kit. Created in response to consumer demand, the Mainstay Super Ark is a super size of the popular Mainstay Ark III Survival Kit, which has already sold tens of thousands of units. It can support one person for three days with over 30 items including: food and water with a five-year shelf life, a first aid kit, hand warmer, light stick, safety matches, candle, and blanket. Like the Mainstay Ark III Survival Kit, Mainstay 3600 Emergency Ration, Mainstay 2400 and 1200 Emergency Food Rations, the Mainstay Super Ark Survival Kit is there to save lives. If you are looking for something inexpensive, yet quality, the Mainstay Super Ark is it! The food and water included in this kit are both USCG approved.
6 - Mainstay Water Packets (4.225 fl oz each) 1- Mainstay Emergency Food 3600 calories 1- Emergency Blanket 1- First Aid Kit 1- Hand Warmer 1- Chemical Light Stick 1- Box of Safety Matches 1- Candle Food and Water for 3 Days - 5 year shelf life!