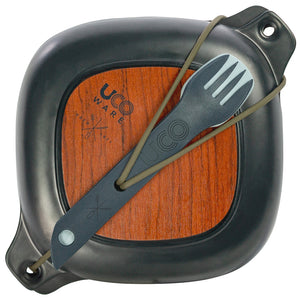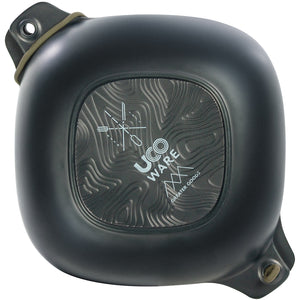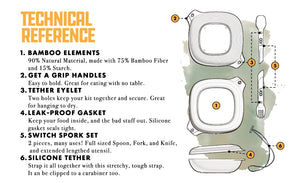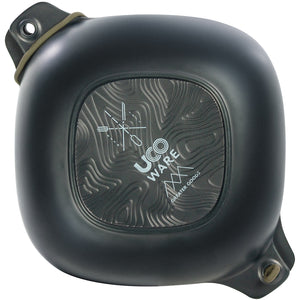 5 Piece Bamboo Elements Mess Kit (Stone Blue Color) by UCO
Made from 90% natural content, the Bamboo Elements Mess Kit is a premium meal kit that takes outdoor eating to the next level. A leak-proof gasket, reusable tether, and two-piece Switch Spork Utensil Set work together to secure contents for transport or hang the kit to dry. Designed for every last bite, the lid and bowl are curved to match the sides of the 4-in-1 Switch Spork set. The 5 Piece Kit Includes:
1 bowl/container, 1 lid/plate, 1 Switch Spork Set, 1 Reusable Tether
The bowl and lid are made of 90% natural materials that consists of 75% bamboo fiber + 15% natural starch.
Tether can be used to secure the kit and its contents.
Double gasket ensures a leak-proof seal when lid is closed.
Get A Grip Handles make the plate and bowl comfortable to hold.
Material: Bamboo-Infused Polymer
Volume: Bowl 23.3 fl oz. (690 ml) Lid 19.0 fl oz. (561 ml)
Weight: 14.0 oz. (397.6 g)
Dims: 6.7 x 6.7 x 2.2 in. (17.1 x 17.1 x 5.7 cm)
Packaging: Peggable/Standing Box
SKU: FP1538-SS