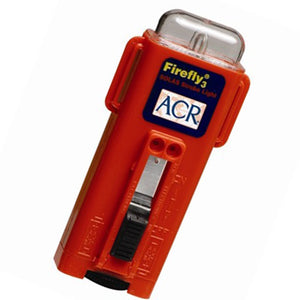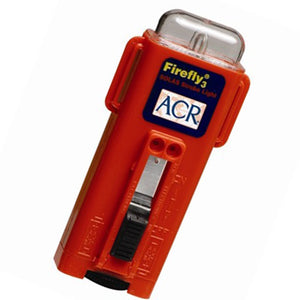 ACR Firefly 3 Rescue Strobe Light
The ACR Firefly®3 Rescue Strobe Light is a professional grade, high quality emergency strobe light. ACR Emergency Strobe Lights are used around the world by militaries, marine operators, governments, aviators and adventurers, because they realize that ACR makes one of the best.
The ACR Firefly 3 Rescue Strobe Light, also know known as an emergency strobe light or a survival strobe, was designed as an electronic "flare" to replace day and night pyrotechnic devices in a survival situation. It lives up to that task admirably and produces a 360°, high intensity strobe flash for a visible distance up to two miles, via its high power Xenon Strobe Light. Unlike many older strobe lights, the ACR Firefly 3 Strobe light uses simple AA batteries, thus making battery replacement easy. It also allows for one to easily carry replacements which allow the survival strobe light to continue as long as needed. This ACR Emergency Strobe Light is approved for use by the United States Coast Guard, SOLAS and the FAA.
Specifications:
ACR #: 3995.3 Size: 4.75" x 2.2" x 1.2" Weight: 3.84 oz (w/ optional lithium batteries) Case material: polycarbonate Waterproof: tested to 33 ft Visibility: up to two miles Flash rate: about 60 flashes per minute Lamp: High intensity Xenon Strobe Batteries: 2 AA Alkaline or AA Lithium Burn time: minimum 8 hrs continuous - Manually activated SOLAS, USCG and FAA Approved rescue strobe light - 360° high intensity Xenon strobe visible for up to 2 miles for up to 8 hours - The ACR Strobe's large sliding switch allows for easy operation by gloved hands - ACR Firefly 3 Strobe base allows unit to stand upright easily on a flat surface - Designed as an electronic flare to replace day and night pyrotechnic signals - Stainless Steel retainer securely attaches removable battery door to case - Strapping slots provide a anchor point for attachment to just about anything - Ideal for vests, safety harnesses, backpacks, survival kits and flight suits. The ACR Firefly 3 Rescue Strobe Light is simply one of the most dependable and effective emergency strobe lights on the market today. The 8 hour life of this blindingly bright strobe light maximizes your ability to get found and the ability to use simple AA batteries means, with a couple of extra sets, this Emergency Strobe Light will burn for as long as the need is there. We have carried this strobe on several Alaska flights.