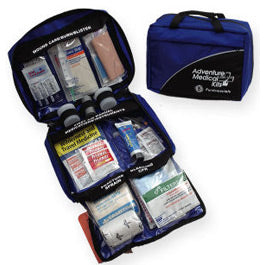 Fundamentals Medical Kit - Adventure Medical
The Adventure Medical Fundamentals™ Kit is our most popular first-aid kit for backpackers. Its popularity stems from its powerful component package, lightweight, organized design, and affordable price.
The Fundamentals Medical Kit by Adventure Medical Kits is situated between the Backcountry™ and the Weekender™ in the family of quality first aid and survival kits. It is not as comprehensive as the Adventure Medical Kits Backcountry Kit but better stocked with first aid items than the Weekender Medical Kit.
If you are looking for a quality first aid kit for your extended adventures, the Adventure Medical Kits Fundamentals is a great choice.
The Fundamentals™ Medical Kit, like all Adventure Medical Kits, was designed for the person who is concerned with both quality and preparedness. The organizer bag is designed to withstand the world's harshest environments. Like all Adventure Medical Products, the Fundamentals First Aid Kit is one of the finest pre-made first aid kits available and is designed for 1-14 day outings for 1-8 people.
Size: 9" x 6" x 3.25"
Weight: 1 lbs. 12oz.
View the contents of the Fundamentals Medical Kit in the "More Views" images on this page. Adventure Medical Kits is dedicated to bringing you the most innovative products which will keep you safe in the outdoors. We rely on the expertise of world authorities in wilderness medicine and survival techniques to develop and refine our products year after year.
Best Glide ASE is proud to be an authorized retailer of high quality Adventure Medical Kits. We have carried Adventure Medical products since we opened our doors for one reason, Adventure Medical Kits are the best pre-made medical kits available.