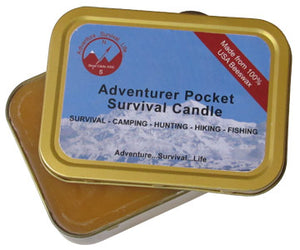 Best Glide ASE Pocket Survival Candle
The Best Glide ASE Pocket Survival Candle is our newest innovation in life saving survival warmth. Larger and more advanced than our Mini Beeswax Survival Candle, the Pocket Survival Beeswax Candle utilizes three wicks so the user can decide how much heat and burn time is needed. Using Made in USA Beeswax instead of traditional paraffin, our candle will burn hotter, cleaner and longer. Because of this, our Pocket Survival Candle is made small enough to fit into a pocket, while still burning long enough to aid in warmth for several nights. Light all three wicks for maximum heating and burn time, about 18 hours. Light only one or two wicks to extend the burn time even more.

The Best Glide ASE Pocket Survival Candle comes in a heavy duty, reusable tin. Also included is a heavy duty rubber securing band to insure that the lid will not come off while being bounced around in a pack, bag or survival kit. We were looking for an all natural, Made in USA candle that would be perfectly suited for our new Compact Survival Tin.

While looking, we came across Beeswax Candles and started to do some research. In short, we found our perfect survival candle. Our Beeswax Survival Candles are made in the USA, using USA Honey Bees. The wick is 100% cotton which contains no lead or metal. Best of all, our Bee's Wax Candles burn much longer than traditional imported synthetic wax candles.
Why use 100% Beeswax instead of traditional paraffin wax?

Beeswax burns brighter, hotter, cleaner and longer.
Beeswax is all natural. We use 100% Pure Beeswax, unlike others.
Beeswax is usually smokeless and virtually soot less.
Even unscented, Beeswax emits a pleasant, mood lifting aroma.
Beeswax releases negative ions which actually clean the air.
Paraffin, NOT Beeswax, contains 11 different toxins. Beeswax contains NO toxins.
Beeswax is non allergenic.
Beeswax removes dust, pollen, smoke, pet dander and germs.

Cautions and Instructions: NEVER leave a burning candle unattended. Due to the higher melting point of Beeswax, it is better to maintain a continuous burn of your survival candle as opposed to numerous short burns. This will maximize the burning of the wax and minimize residual wax after use.
Specifications:
Stock # WS1367
Wt: 9 oz
Size: 4.5" x 3.3" x 1.2"
Three Wick System 100% Beeswax (Most are not 100% beeswax. It makes a big difference)
Made in USA using USA Honey Bees and 100% USA Beeswax