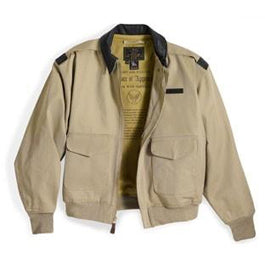 All Cotton 100 Mission A2 Flight Jacket by Cockpit USA
Clearance / Liquidation - Best Glide ASE has drastically reduced prices to sell off our limited remaining inventory. 
Cockpit USA first introduced the 100 Mission Cotton A-2 Flight Jacket in 1986 for those who want the look of the original, but desire a lighter weight Flight Jacket than the traditional Leather A-2 Aviator Jacket for all season wear.

The Cotton A-2 Flight Jacket has been an instant hit and will continue to be so. Durable quality, stylish features and best of all, affordability make the Cotton A-2 Flight Jacket a best seller. The traditional A-2 Flight Jacket styling in the 100 Mission Cotton A-2 Aviator Jacket features tightly woven cotton twill, snap close top entry pockets and open side entry hand warmer pockets, epaulets, inside chest pocket, washable leather snap collar and shoulder tabs, knit cuffs and waistband, full front zipper under wind flap, hidden pen pocket, and grommets.
The Cotton A-2 Flight Jacket is "full cut". This means that it does not fit as snugly at the bottom as its leather A2 Flight Jacket counterparts. Its ample waist line is spacious yet stylish. The Cotton A-2 Jacket also includes a Cockpit I.D. leather bar tab on left chest and best of all, a cotton lining with a detailed silk screened patriotic citation lining.
The 100 Mission Cotton A-2 Jacket is currently available in Khaki. The All Cotton 100 Mission A-2 (Khaki) Jacket comes in sizes XS - 3XL and comes in more of a "straight cut" than the traditional leather A-2 Jackets. This gives a more loose fit around the waist line. If your size is not depicted on the drop down list, please give us a call to place your order. We apologize for this inconvenience. We make every attempt to consistently be fully stocked, however, sometimes a large order depletes our inventory. Occasionally there might be a slight delay in shipping, however, this is rare. If a slight delay will inconvenience you, please give us a call to make sure your jacket is currently in stock.