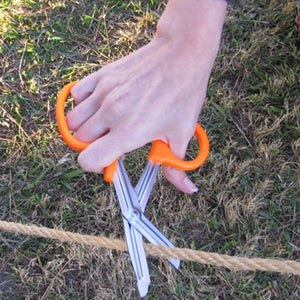 All Purpose Survival Shears
These All Purpose Survival Shears, also know as EMT Bandage Shears, Medical Emergency Shears and Survival Scissors, are a perfect addition to any survival medical kit or survival kit. These scissors have been in use for years by medical professionals and emergency personnel for a very good reason. They are durable and will cut just about anything.
The "blades" of these survival scissors are made from Stainless Steel and are both hardened and shaped to enhance the cutting ability and durability of these EMT Survival Bandage Shears. The All Purpose Medical Shears blade has a unique micro serrated design and "angle" blade shape which enables you to get extreme power and cutting ability. In short, these will cut through both metal and fabric, and anything in between. Have you ever tried using the scissors on a multi-tool or pocket knife to cut something difficult? These survival scissors are in another category entirely and should not be underestimated.
We offer two styles of these Medical and Survival Scissors: standard and deluxe. The standard version is a little lighter and a little less durable. The deluxe survival scissors, shown here with a survival orange handle, is a little heavier and built for slightly more extreme conditions.
Don't let the price fool you. Both will do the job! Both versions are sterilizable and autoclavable and are of hospital quality. Don't confuse ours with lesser quality all purpose medical shears.
Stock#s: MP1374S-B (Standard - Black); Wt: 1.75 oz (Standard); Size: 7.5" x 3.2" (Standard)
Stock#: MP1374D-O (Deluxe - Orange)  Wt: 2.30 oz (Deluxe)  Size: 7.5" x 3.8" (Deluxe)