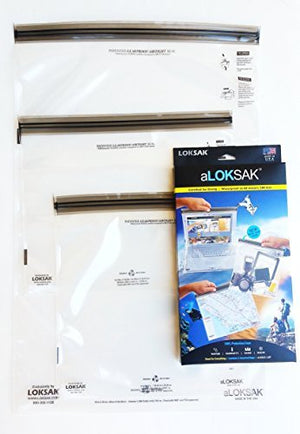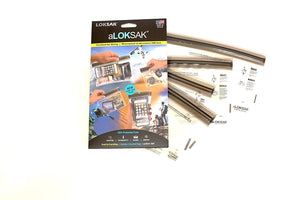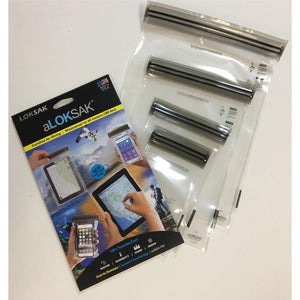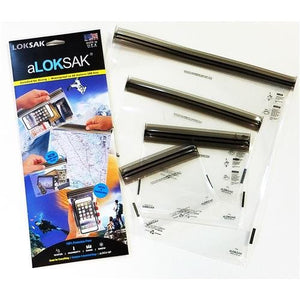 aLOKSAK Element Proof Bags - Various Assortments
aLOKSAK are Military Grade, re-sealable, flexible storage bags offering protection from all the elements. Made in the USA and utilizing five patents, this light-weight storage system prevents air, humidity, water, dust, sand, and even the passage of time from harming your electronics and valuables.
The Made in the USA aLOKSAK holds patents for the Hermetic Seal, Flange, End Seal, Side Seal, and the durable 6 mm new generation film.
All Touch Screen electronics work while protected in the aLoksak. You can make and receive phone calls.
Made in the USA
Waterproof to 200 feet
Hermetic airtight seal
100% protection from water, sand, humidity, and snow
Touch screens and sound quality function 100% in the aLOKSAK
Reusable and recyclable
Military Grade 6 mm film
FDA, and NSA approved medical grade materials for food and biohazard storage
Assortment SMP (Set of 4 - 5x4, 4x7, 6x6, & 9x6)

Assortment ITM (Set of 4 - 3.75x7, 4x7, 6x9, & 8x11)

Assortment LMP (Set of 3 - 12X12, 13x11, & 16x24)

Assortment MP (Set of 4 - 4x7, 6x6, 9x6, & 12x12)
Please note that the sizes above are Approximates.  And, the outer dimensions will differ from the inner dimensions.