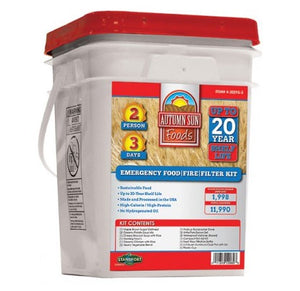 Autumn Sun 2 Person, 3 Day Food, Fire and Filter Emergency Kit
With the Autumn Sun 2 Person, 3 Day Emergency Food, Fire and Filter Kit, you have much more than just survival food.   The Autumn Sun Foods 2 Person, 3 Day Emergency Kit will give you peace of mind in knowing that you have food, fire-starting capability, a first aid kit and a filtration bottle for water during any crisis.

The high calorie, high protein nutrition is a safe investment with an amazing shelf life of up to 20 years. If an emergency situation does arise, this kit contains a balanced assortment of meals that will deliver two people enough nutrients for 3 days AND additional survival gear.  Keep an Autumn Sun Foods Emergency Food, Fire, and Filter Kit for the home, car, or office, and have the essentials on hand for that unexpected situation.

However, Autumn Sun Food is great tasting, so don't think it is just for survival or emergencies.  It is great for backpacking, camping or just being out in the woods or lake.

Stansport Stock Number: 4-20295-2
Best Glide Stock Number: FW1465
Approx. Size: 12 x 10.5 x 12.5 inches
Approx. Weight: 10 lbs
Sustainable Food
Up to 20-Year Shelf Life
Made and Processed in the USA
High-Calorie / High-Protein
No Hydrogenated Oil

Autumn Sun 2 Person, 3 Day Food, Fire and Filter Emergency Food Kit contents:

(1) Maple Brown Sugar Oatmeal
(2) Creamy Potato Soup Mix
(1) Cheesy Broccoli Soup with Rice
(1) Morning Moo's
(1) Creamy Chicken with Rice
(2) Hearty Vegetable Blend
(1) Fold Up Backpacker Stove
(2) Knife/Fork/Spoon Set
(2) Waterproof Matches (Boxed)
(1) Compact First Aid Kit
(1) Fresh Flow Filtration Bottle
(1) 2.5 Quart Aluminum Cook Pot with Lid
(1) Plastic Cup

Be sure to check out our other survival and recreational food options.  Some of these include Mainstay Emergency Food and MREs, which require no preparation, Wise Survival and Recreational Food and our Mountain House Food Selection.