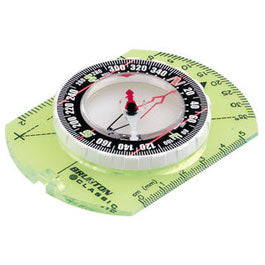 Brunton Baseplate Adjustable Declination Compass #9020G
An ideal beginner compass, the Brunton Baseplate Declination Compass 9020G is another Brunton signature compass. The Beginner Brunton Compass includes an optic green baseplate and tool-free declination adjustment for easy reading and more convenient navigation.
Brunton Compass #9020G Tried and true Brunton base plate compasses are tools for your outdoor adventures. Especially useful for navigating with maps, they are accurate, declination adjustable and have a rotating azimuth ring. Packed with features, a Brunton baseplate compass is anything but basic. Brunton accessory compasses complement the many compasses available in the market today. All affordably priced, these items include small size, pin on attachment points, watchband compasses and pocket survival kits. Every Brunton product is backed by the quality and reputation of a company who has always provided the most reliable and trustworthy tools.
Specifications: 3.5"x2.5"x.5" 1.1 oz. 2° graduations Declination adjustable 0-35° inclination scale Inch & mm scales Patent #4,438,568
Lifetime warranty