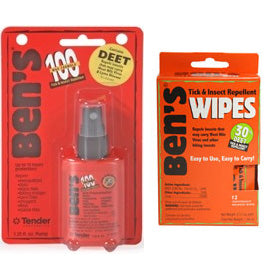 Ben's Deet Insect Repellent
Ben's® 100 Tick and Insect Repellent
Ben's® 100 Tick & Insect Repellent is the perfect solution to staying 'bite free' in a insect populated environment. As anyone knows who has been in the woods for awhile, nothing ruins an outing more than biting and stinging insects. If you find yourself in an emergency in the wilderness, you simply cannot afford to be hindered by potentially life threatening insect bites.
Ben's 100 Tick & Insect Repellent contains 95 percent DEET, the highest concentration available. Therefore, Ben's 100 Max is one of the longest lasting DEET formulas available from any manufacturer and is recommended for use in areas of heavy insect infestation. Ben's Tick & Insect Repellent is so effective, there is no need to keep reapplying. Use just enough to cover exposed skin and apply to clothing. Ben's Tick and Insect Repellent is in countless survival kits worldwide. It is simply one of the best and strongest insect repellents available. Because of the strength of Ben's Max 100, special attention should be paid to following the instructions on the package. This item should not be used on small children. * Unscented * Pocket size * Tick protection: Up to 10 Hours * Mosquito protection: up to 13 Hours * Available in pump spray * 1.25 oz
Ben's Tick and Insect Repellent Wipes
Easier and faster to apply than sprays or lotions,
Ben's 30% Deet Tick and Insect Repellent Wipes allow you to control exactly where and how much repellent you apply to your skin.
Ben's unique water-based formula insures that the repellent will last longer than alcohol based repellents that quickly evaporate from your skin. * Easy to control application * 30% deet * Water based formula is gentle on skin * 10 hr tick protection * 8 hour protection from mosquito bites * 12 individually wrapped wipes
Ben's® Tick & Insect Repellent ...
THE MOST EFFECTIVE TICK AND INSECT REPELLENT YOU CAN BUY!