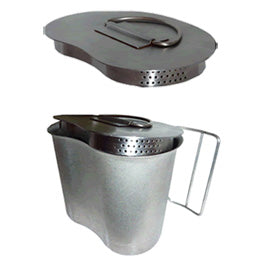 Canteen Cup Boil Cover
This Military Canteen Cup Boil Lid was designed as a durable lid, specifically for the United States Military Stainless Steel Canteen Cup, that will assist when boiling liquid or cooking. Use of the Heavy Cover Boil Lid will save fuel, keep debris out and enhance cooking capabilities.

The Canteen Cup Boil Cover includes a built in strainer and has a polished underside for emergency signaling.

The Stainless Steel Canteen Cup Boil Cover is made specifically for the U.S. Issue Canteen Cup, sold separately by Best Glide ASE. The Heavy Cover Canteen Boil Cover is made from stainless steel, which will help retain heat while cooking in the U.S. Military Canteen Cup.

• Save Fuel
• Keeps Debris Out
• Enhance Cooking Capabilities
• Built-In Strainer
• Polished Underside for Signaling
• Patented
• Fits the US GI Canteen Cup sold by Best Glide ASE
• The lid is made of stainless steel

Be sure to take a look below at our other U.S. Canteen accessories. We offer the U.S. Military Issue Canteen Cup, Canteen, Made in the USA Canteen Cup Stove and much more. Check out our U.S. Integral Survival Unit.