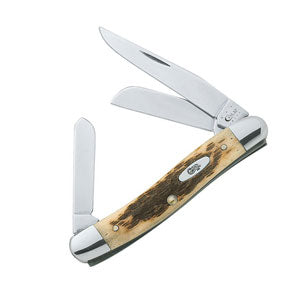 Case Medium Stockman CA039 Pocket Knife with Amber Bone Handle

Since 1889, every Case Knife has been hand crafted by the most skilled artisans and cutlers in the business, with pride in the United States. Each Case Knife takes over 160 manufacturing processes, hand crafted to make a cherished possession worthy of being passed down through the generations and stand the test of time. The Tested XX is a symbol of Case's commitment to quality which can be traced back to the early days of Case when blades were tempered and tested not just once (X), but twice (XX). Case stretches to the far corners of the earth to find the finest natural handle materials available and is dedicated to making the everyday tool into a valuable treasure for discerning men and women who want more than just a knife.

Case has been making pocket knives since 1889 and with over a century of experience, W.R. Case & Sons know how to make a premium pocket knife. The Case Medium Stockman CA039 Pocket Knife with the Amber Bone Handle is a prime example of the care put into every Case Pocket Knife.

The Case Medium Stockman comes with Clip, Sheepfoot and Spey blades in Case's original Chrome Vanadium, an alloyed steel that works hard and resharpens easily.  The Medium Stockman Amber Bone CV also includes the classic Case Script Logo.  Smaller than its Large Stockman counterpart,  it measures 3 5/8" in length when closed.   This Case Medium Stockman Knife, Amber Bone CV, CA039, weighs about 2.5 oz. This workhorse of a knife is high on our list of favorites.  It is really hard to choose a favorite though.  We like them all.

Specifications:

- Blade Type: Folding
- Blade Material: Case's original Chrome Vanadium alloyed steel
- Handle Style: Amber Bone (as in product photo)
- Blade Shape: Clip Point, Sheepfoot and Spey Point
- Case Stock Number:  039
- Best Glide Stock Number: TS1404
- Closed Length: 3 5/8"
- Weight: 2.5 oz.