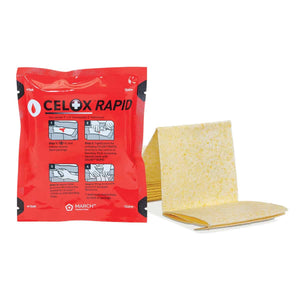 Celox Rapid Z Folded Gauze - 3 inch x 5 feet
Celox RAPID is the fastest acting hemostatic dressing, reducing treatment time and blood loss. It packs faster, requires minimal post-application compression, reduces blood loss and provides greater stability in evacuation compared to traditional products. This product has been proven to stop major arterial bleeding by coagulating blood within 1 minute, reducing additional blood loss. Celox RAPID gauze is suitable for: Severe high pressure bleeding, Arterial and venous bleeding, Bullet, blast, knife and shrapnel wounds.
Purchase of this medical device requires that the user have supervision from a licensed medical practitioner. Devices requiring such supervision may be labeled "Caution" or "RX only". Ensuring this supervision is the purchaser's responsibility. By adding this item to the cart I verify that I accept these terms.