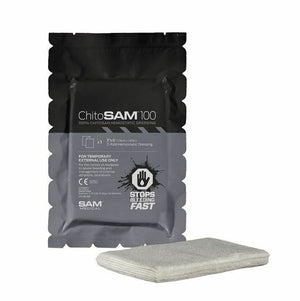 ChitoSAM 100 Hemostatic Z Fold Dressing (3 inch x 6 feet)
Purchase of devices labeled "Caution" or "Rx Only" requires that the user have supervision from a licensed medical practitioner. Ensuring this supervision is the purchaser's responsibility.  By adding this item to the cart I certify that I accept these terms and conditions.
ChitoSam 100 is a higher-performance hemostatic, non-woven chitosan dressing spun directly from chitosan derived crustaceans or snow crab shells. Designed to stop lethal bleeding rapidly, its ease of use is extremely effective. Works independently from the body's normal clotting processes.
ChitoSam 100 has a hemostatic performance equivalent to products impregnated or coated with chitosan hemostatic agents.
The Z-Fold allows for the application to large wounds.
Innovative package design allows for quick access to ChitoSam 100, tearable from any side.
SKU: MP1610