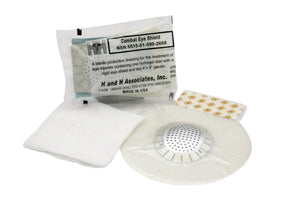 Combat Eye Shield by H & H Medical (NSN: 6515-01-590-2668)
H&H's Combat Eye Shield patented design according to the specifications of several active duty surgeons of OIF/OEF to cover penetrating eye injuries. The Combat Eye Shield is designed to meet the CoTCCC guidelines for the treatment of penetrating eye trauma while providing a small, sterile package to fit in any trauma kit.
The Combat Eye Shield is composed of a 6 inch Hydrogel disc that surrounds an aluminum fox eye shield, giving a large surface area to attach to the casualty that will nor harm adjacent trauma or burns.
The Combat Eye Shield also comes with one 4" x 4" Gauze Pad to clean the surface of the wound area before applying the shield. The package comes vacuum sealed and sterilized for immediate use.
Package Dimensions: 3.25" x 8" x 0.5"
Package Weight: 1.7 oz
Shelf Life: 5 years
100% Made in the USA
SKU: MP1560