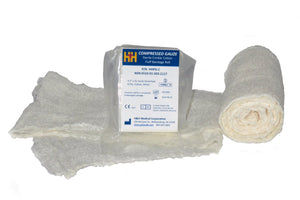 Compressed Gauze - Civilian Edition by H & H Medical (NSN: 6510-01-503-2117)
H&H Medical brings back the popular blue labeled version of their H&H Compressed Gauze for civilian and international customers. Made from the same high quality cotton as their world famous H&H PriMed Compressed Gauze, their blue labeled Civilian Gauze is designed for maximum absorption and stability. Vacuum packed small for easy storage, the gauze expands to cover large wound areas. The product comes with a 4.5" x 4.1 yards (stretched) roll of crinkle fluff USP Type VII compliant gauze, sterile and ready to use.
The biggest difference between the Civilian "blue label" version and the "red label" version is the shelf-life: 5 years vs. 7 years; and it has the CE Mark for international customers.
Pkg Size: approx 3 inches x 2 inches x 1 inch
Pkg Weight: approx 2 ounces
Shelf Life: 5 years
SKU: MP1532