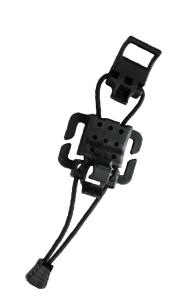 Elasto-Lok Ice Axle Buckle aka Tactical Gear Clip (Compatible with MOLLE System)
The Elasto-Lok Ice Axle Buckle is also known as a Tactical Gear Clip compatible with the MOLLE system.  It is a Multipurpose Fastener For Clipping Gear To your Tacktical Vest, Backpack, and/or MOLLE bag.
This Elasto-Lok design offers a stable, easy system which attaches to the "daisy chain" webbing sewn on the back of a pack. The adjustable bungee cord system gives you substantial flexibility to handle a variety of shaft sizes. The unique "lever-latching" bungee system holds your items securely in place.  And, it can be locked or disengaged with one hand.  This small fastener is ideal for flashlights, tourniquets, axes or any other equipment.