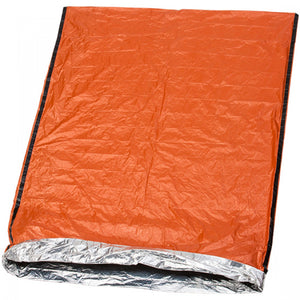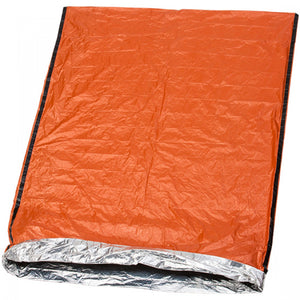 Emergency Bivvy XL by Survive Outdoors Longer
2 Person Emergency Sleeping Bag or Blanket
Get inside this extra-large bivvy alone or with a friend and use it like a sleeping bag for the unexpected night out. Turn the bivvy inside out to use as an emergency blanket if you're not ready to lay down.

90% Heat Reflectivity
Stay warm in the fiercest conditions with a bivvy that reflects 90% of your body heat back to you to prevent heat loss and trap warm air. By sharing the bivvy bag with a friend, you can build up additional heat.

Lightest 2 Man Bivvy on the Market
Take this bivvy bag camping, hiking, or biking for an emergency shelter you and your partner can rely on – it weighs a mere 5.8 oz. and is the size of a 12 oz. soda can when packed up, yet measures 84" x 60".

Durable, Reusable, & Quiet
Have confidence your shelter won't let you down or cause undue stress. Unlike mylar or polyester, this bivvy features a quiet, tear-resistant material that won't shred to pieces if punctured or fray your nerves by rattling loudly in the wind.

Protection from Wind, Rain, & Snow
Protect yourself from the elements. This waterproof bivvy has sealed seams and waterproof, windproof material to keep you dry and warm no matter what nature throws at you.

Package Size: 84" x 60"
Package Weight: 6.3 oz.