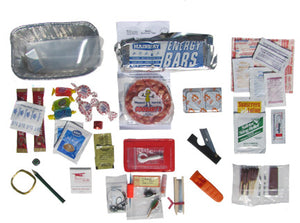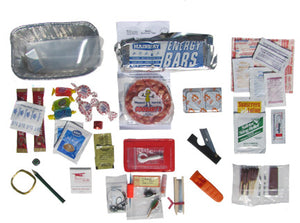 Best Glide ASE Emergency Ration Packs (Basic & Advanced)
The Best Glide ASE Emergency Ration Packs (Basic & Advanced) was designed for military, disaster relief, marine, aviation, outdoor adventure and extreme conditions applications.  It contain several US and UK Government Approved Survival Gear.  
The Best Glide ASE Emergency Ration Pack is a perfect way to prepare for hurricane survival, tornado survival, earthquake survival and unforeseen non-natural disasters seen every day around the world. Throw a couple survival kits in the car or keep a few at home just in case. Each Disaster Survival Kit contains approximately 1500 calories of life preserving nutrition, as well as numerous items to stay comfortable, remain warm, keep oriented and to be rescued.
The Best Glide ASE Emergency Ration Pack comes sealed in an airtight bag which is constructed of a high barrier foil laminate designed for the preservation of food items. It is impervious to sun, moisture and air. The high grade survival items within, some of which are military and/or NATO approved, are protected by a permanent seal but include a heavy duty zip lock which makes the bag resealable after initial use.
The Emergency Ration pack is available in two versions:
Basic Emergency Ration Pack contents:
Emergency Food
Energy/Candy Bar
Bouillon Cube
Coffee
Creamer
Sugar
Water Purification Tablets
Hard Candy
Fresnel Lens Fire Starter
Gel Fuel/Esbit Tab
Matches
Foil Tray
Water Bag
Survival Whistle (NATO/SOLAS)
Wire (Snare Type)
Button Compass (U.S. Military Issue)
Pencil
Survival Instructions
The Advanced version adds:
Military Utility Knife
Basic First Aid Supply
Basic Fishing Kit
NATO Matches
Please Note:  Minor substitutions sometimes occur due to product availability. This sometimes includes the substitution of Military Gel Fuel for Esbit Solid Fuel Tab.
NOTICE:  This product sometimes contains peanuts.