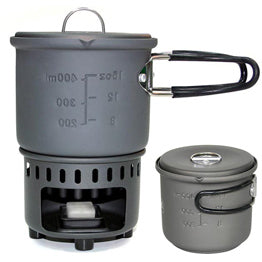 Esbit Stove and Cookset
The Esbit Stove and Cookset is constructed from hard, anodized aluminum and includes a 19.8 fl. oz pot, lid and windshield stove unit.  The stove unit fits inside the pot, which has a foldable, no heat handle, for easy and space saving storage.
The no heat handle of the Esbit Stove and Cookset feature stainless steel construction, silcone grips and the ability fold flat against the pot when not in use.
The Esbit Stove and Cookset use the standard 14 Gram Esbit Fuel Cubes which will burn approximately 10 to 15 minutes and will heat approximately 16 fl. oz of water. In extreme conditions, a second fuel tab could be necessary.
Weight (without fuel): 7.5 oz Dimensions: 4.1" x 3.75"
Average Boil Time: 14 minutes Fuel Capacity: (1) 14 Gram Fuel Tablet
Mesh Storage Bag: Included
Fuel Tablets: Sold Separately