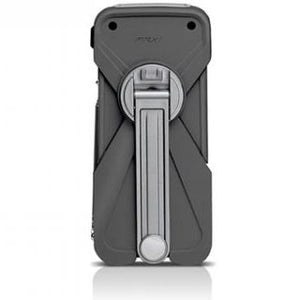 Eton FRX1 Emergency Radio
For portable preparedness, take along the FRX1, a self-powered AM/FM/NOAA Weather band radio.
Crank the hand turbine for 60 seconds and get 15-20 minutes of music, news, and 24/7 weather updates.
The bright LED flashlight is handy to have in the glove compartment, while camping and for everyday. The FRX1 is really easy to find thanks to the glow-in-the-dark locator around the rim of the flashlight, so you're ready for anything.
There is no substitute for communication in a survival situation.
However, with the Eton FRX1 Emergency Radio, you have so much more.
This small size radio, measuring just 5.4" x 2.5" x 2.5" and weighing only 8 oz, is one of the smallest fully functional survival and disaster radios available.
Be prepared for anything with the Eton FRX1 Emergency Radio.
This all-purpose, rechargeable weather radio with hand turbine power generator will keep you all charged up and in the know. Use it for everyday or in case of emergency. Eton's FRX Series has long, durable hand turbine handles that tuck neatly into the unit when not in use.  One minute of cranking provides approximately 10 to 15 minutes of music, weather and news.
Listen up with this AM/FM/NOAA weather band analog radio you'll always be in tune and up to date. And, when you want to listen alone, just plug in your favorite headphones.
Ready, set, crank! Crank the hand turbine for one minute and produce enough power for 15-20 minutes of music, news and weather. You can also use the mini USB cable to charge the FRX1's built-in rechargeable battery.
Light the way because the bright LED flashlight is always handy…at home, at the office, or even in the car.  With the glow-in-the-dark locator, the FRX1 is always easy to find. The glow-in-the-dark bezel will help you find your FRX1 and the super bright 3-LED flashlight will then help you find your way around!
The Eton FRX1 Emergency Radio is the smallest version in the Eton FRX Field Radio line.  Yet as you can see, it does not sacrifice on quality or functionality.
Eton FRX1 Emergency/Field Radio Features:
AM/FM NOAA Weather Radio (Receives all 7 NOAA and Environment Canada Weather band radio stations)
Double power source: integral dynamo/DC
Built-in 3 white Super Bright LED light source/Beacon
Glow in the Dark Locator
DC Power Input (mini USB Included)
AC Power Input
Internal Ni-MH Battery
Headphone Output
Approximately 5.4" x 2.5" x 2.5"
Weight: 8 oz
Offered in gray
Included:
User Manual
Warranty Card
Eton FRX1 Field Radio
Mini USB Cable
The Eton FRX1 Radio is a perfect solution if you are looking for a capable radio for both recreation and emergency. Even if you don't purchase the Eton FRX1, be sure to have some way to get information in case of natural disaster.
No matter the emergency, a survival radio is basic survival gear. You need to know what is coming, where safety is and when the danger is over. With an Eton FRX Series radio, you can stay informed on all developments and not miss crucial information that could save lives.
Even if you don't buy an Eton Radio from us, please have an emergency radio on hand. You just never know what tomorrow will bring. The Boy Scouts said it best, "Be Prepared".