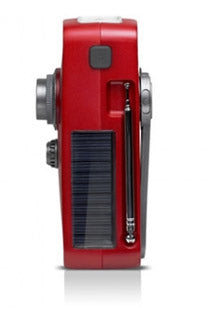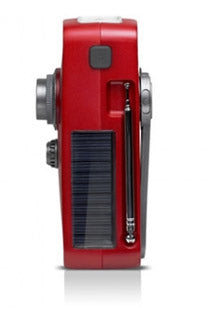 Eton FRX2 Emergency Radio
There is no substitute for communication in a survival situation. However, with the Eton FRX2 Emergency Radio, you have so much more. This small size radio, measuring just 5.4" x 2.4" x 2.4" and weighing only 9 oz, packs quite the punch in a survival or outdoor situation.

The FRX2 Emergency Radio is a solar, DC or hand turbine powered AM/FM/NOAA Weather Radio with a USB smart phone charger. Spin the hand turbine for 60
seconds and get 10 - 15 minutes of weather updates, news and entertainment.

The Eton FRX2 Radio will even charge your smartphone. Simply plug it into the USB port. Power will automatically "dump charge" to your phone, just like plugging into the wall.

The FRX2 is easy to find thanks to the glow-in-the-dark locator, so it's perfect for camping and surprise power outages. The bright and long-lasting LED flashlight is handy in any situation and there's also an input to charge via a wall socket or computer using the included mini-USB cord.

The Eton FRX2 Emergency Radio is the smallest version of the quality Eton line we carry.

Eton Microlink FRX2 Emergency Radio Features:

AM/FM NOAA Weather Radio
Triple power source: solar/integral dynamo/DC
Built-in 3 white LED light source
USB Smart Phone Charger (dump charge)
Glow in the Dark Locator
DC Input (mini USB Included)
Headphone Output
Approximately 5.4" x 2.4" x 2.4"
Weight: 9 oz
Offered in black

The Eton FRX2 Radio is a perfect solution if you are looking for a capable radio for both recreation and emergency. Even if you don't purchase the Eton FRX2, be sure to have some way to get information in case of natural disaster.

No matter the emergency, a survival radio is basic survival gear. You need to know what is coming, where safety is and when the danger is over. With an Eton FR Series radio, you can stay informed on all developments and not miss crucial information that could save lives.

Even if you don't buy an Eton Radio from us, please have an emergency radio on hand. You just never know what tomorrow will bring. The Boy Scouts said it best, "Be Prepared".