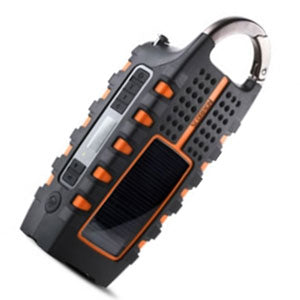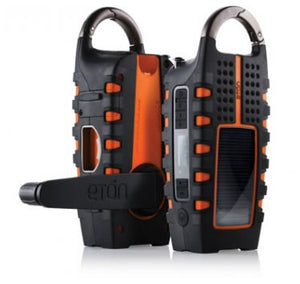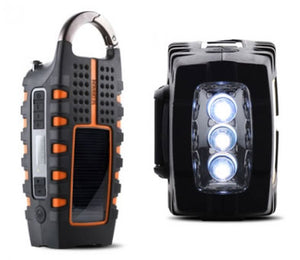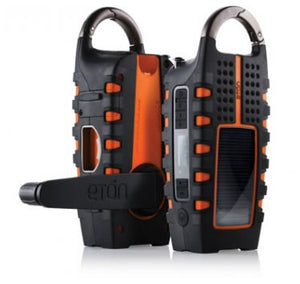 Eton Scorpion Emergency Radio
There is no substitute for reliable communication in a survival situation. In this case, that reliability comes in the Eton Scorpion All Purpose Radio. It is a flashlight, radio, cell phone charger and bottle opener, all in one. It is great for hiking, camping and yes, even in a survival situation.

Stay tuned to AM/FM and NOAA Weather Bands with the Eton Scorpion Digital Radio. This means precise tuning and optimal reception. The Eton Scorpion Emergency Radio even comes with an AUX input so you can play your own music.

The Eton Scorpion, in true emergency radio fashion, needs no batteries. Know when your Scorpion is charged by use of its integral solar panel with the included battery indicator. You can also self power the Scorpion by use of the included hand crank. This same function lets you self charge your cell phone! Never be without cell phone power again.

All this comes inside the Eton Scorpion's rugged case which is designed for extreme outdoor adventures and emergency situations. Clip it anywhere with its integral carabiner. Don't worry about getting it wet, it is also splash proof (IPX-4).

Eton Scorpion Specifications and Features:

Size:  2.5" x 6.375" x 2"
Weight:  10.8 oz.
Color:  Black and Orange
Bands:  AM/FM/NOAA (Weather)
Headphone Jack
Auxiliary input for additional audio devices
Digital Tuner
Hand Turbine Charging, Solar Charging, AC Power (optional)
Water Resistant and Rugged Design (IPX-4)
LED Flashlight and Beacon (Emergency Flashing Beacon)
*USB Smartphone Charger

* This is a really great feature.  When your cellphone power dies in an emergency situation, just plug in your cell phone to the Eton Scorpion and turn the crank to produce power for a call!