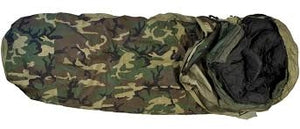 Extreme Cold Weather Sleeping Bag - ECW Winter Mummy
SUBZERO SLEEPING BAG: Original US Military Subzero Sleeping Bag! These sleeping bags are made of water-repellent poplin cotton outer shell with 80% down 20% polyester filling. They feature a 64in long zipper, offset stitching at the seams and a 3 in storm flap with snaps over the zipper rated for -20°F. Mummy style bags with a draw cord hood. These bags are 84 inches long, 30in wide at the top and 14in at the bottom and weigh 8lbs. They were issued from the 1970's into the early 2000's. These are the thickest warmest bags I ever had. [Other "Extreme Cold Weather" Bags are thinner]. These are the Real Old School Heavy Duty Sleeping Bags. Made in USA! Issued by the US Government! NSN: 8465-01-033-8057.
BIVY COVER: Component of the 4 piece Modular Sleep System (MSS). Woodland Camo pattern zipper and snap storm flap. Waterproof and windproof. Made for the US Military modular sleeping system to be used with the modular sleeping bag or by itself. Great for Hiking, Backpacking, Hunting, Camping, Tactical Operations, or any other outdoor activities.This bag will fit most commercial available sleeping bags. It measures 84"L x 35" at shoulders and 23" at feet. Color: Woodland Camo Made in USA by Tennier Corp. for the US Military. NSN: 8465-01-455-6274.