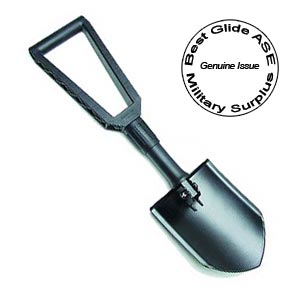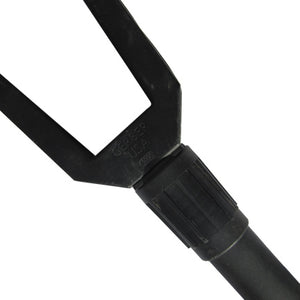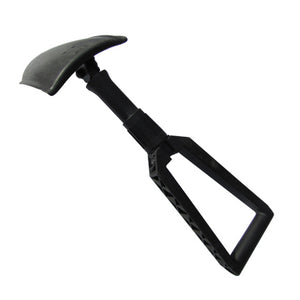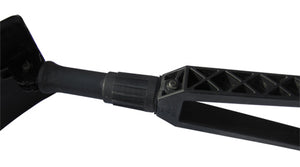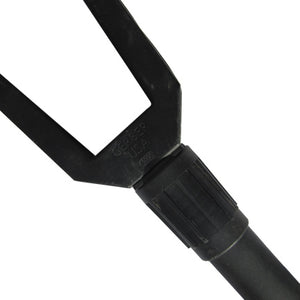 Gerber Military Entrenching Tool

Note:  The Gerber E-Tool shown above is an image of the NATO Gerber E-Tool in New/Like New condition.  The product will not appear in this same condition if another category is chosen. 

The Gerber USGI, Military Surplus, Entrenching Tool is a heavy duty, low tech piece of high quality survival gear.  It can be used for purposes ranging from building a
survival shelter, digging a survival hole, fighting off wild animals to digging yourself out of a snowbound situation.  Heck, as a Boy Scout, I even cooked hamburgers on an Entrenching Tool like the Gerber Military Issue E-Tool during my wilderness survival merit badge.

A shovel, or entrenching tool is a valuable piece of survival gear.  If you follow survival theories geared toward wilderness survival, you will find countless ways to fend off the cold, snow and wind with the use of a shovel.  One most often talked about is simply being able to dig a hole that will get you below ground level, out of the wind.  There are many other uses, all of which can save your life.

This Gerber USGI E-Tool has an NSN of 5120-01-476-7556.  It does not include a pick or serration on the blade edges.  However, it is made of Boron Steel and includes a PBT Glassfiber handle.  This one is very hard to break even if you are trying to.  It is the same composition of many of Gerber's other famous survival tools, which we carry in our Tools and Sharps Category.

Specifications:

USGI Gerber Entrenching Tool
NSN:  5120-01-476-7556
Overall Length: Approx. 23"
Blade Length: Approx. 9.5"
Weight: Approx. 40 oz (about 2.5 lbs)
Blade Composition:  Boron Steel
Handle Composition: PBT Glassfiber (very strong)

Our Military Issue Gerber Entrenching Tools, or E-Tools, are divided into three categories: New/Like New, Very Good and Used. See below for a description of each.


New/Like New - This means the Military Surplus Gerber E-Tool was received by us still in its original packaging, with its original tags attached or no visible signs of use could be found.  In many cases, an item looks new and unused upon inspection, but to be sure, it is included in the Very Good Category.  In this condition, there may be slight scuffs or scratches on the E-Tool due to storage by the Military.

Very Good - The item either appears to be in unused condition or has slight marks that show it was either issued and stored or was used several times at the most.  The Military Issue Entrenching Tool will be in fully functional condition, as it is with all of our military surplus products.  The coloring will be in very good shape.  There may be scratches, scuff marks and even dirt in some cases caused by usage of the E-Tool by U.S. Troops.

Used - This includes everything else, while still insuring that the Military Issue, USGI, Gerber Entrenching Tool is fully functional.  In short, it is fully functional but will not look new.  There will be signs of wear and or usage.  However, again, in this condition the Military Surplus Gerber Entrenching Tool will be fully functional and will do everything it was designed to do when new.  It is often the case that a good cleaning, a little TLC and a fresh shot of black paint will make the Gerber Entrenching Tool look Very Good when purchased in this condition.