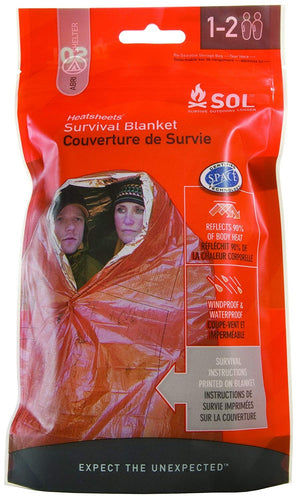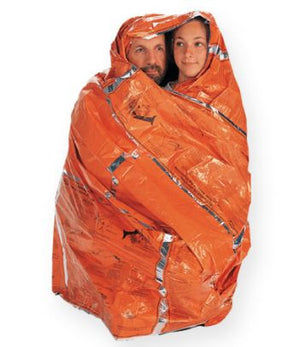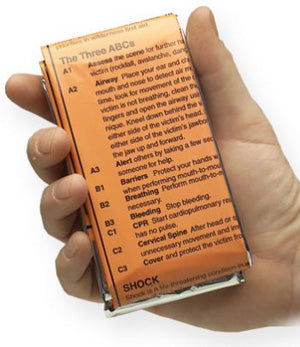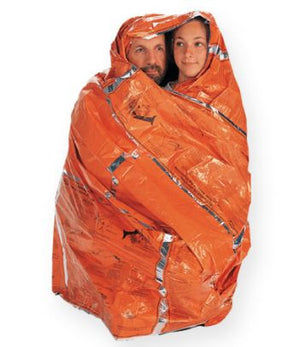 Heatsheet® Two Person Survival Blanket by Survive Outdoors Longer (SOL)
The Heatsheet Two Person Survival Emergency Blanket by Survive Outdoors Longer (SOL) is the next generation of emergency blankets. The Heatsheet is 20% larger than competitive products which make the Heatsheet emergency blanket big enough for two people. Survival and first-aid instructions are printed directly on the emergency blanket which means you will have them when you need them!
The Heatsheet Emergency Blanket by Adventure Medical Kits features a BRIGHT ORANGE EXTERIOR, an easy to spot universal distress color for rescue which makes this valuable piece of warmth providing equipment a signaling device as well.
The Heatsheets Survival Blanket reflects 90% of radiated body heat, is easy to open and fold, is quite, tear resistant. This Survival Blankets shape makes it easy to pack. * Reflects up to 90% of radiated body heat * Easy to open and fold * Flat shape makes it easy to pack * Big enough for two people - 60" x 96" * Doubles as a signaling device * Weight: 3.5 oz