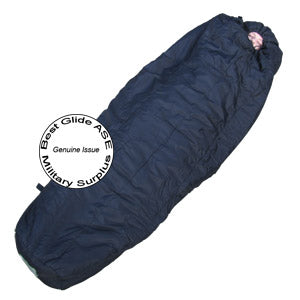 Intermediate Cold Weather Sleeping Bag - MSS
The Intermediate Cold Weather Sleeping Bag was originally one component in the Military Modular Sleep System but works great by itself.  The Intermediate Cold Weather Sleeping Bag is Genuine Military Issue and carries NSN 8465-01-398-0687.

This Genuine Military Issue Intermediate Cold Weather Sleeping Bag is made of water resistant, rip stop nylon and is designed for cold weather climates.  It is rated to be used in temperatures between +30 degrees to -10 degrees.  Because of its padding, it also makes a great sleeping pad if you are in warmer weather and
choose to sleep on top of it instead of in it.

The Military Issue Intermediate Cold Weather Sleeping Bag measures approximately 85" to 87" long and 34.5" to 35.5" wide at its widest point.  Also included is an adjustable hood designed for heat retention.  The Intermediate Cold Weather Sleeping Bag is machine washable.

Specifications:

Military Designation:  Modular Sleeping Bag, Intermediate Cold
NSN:  8465-01-445-6274 (Modular Sleep System)
NSN:  8465-01-398-0687 (Black Intermediate Sleeping Bag)
Manufacturer:  Tennier Industries Inc., Made in USA
Genuine Military Issue
Size: 85" to 87" x 34.5" to 35.5"
Weight:  Approximately 4.5 lbs
Outer Shell:  Rip Stop Nylon
Color:  Black

Our Military Issue Modular Sleep System Intermediate Cold Weather Sleeping Bags are divided into three categories: New/Like New, Very Good and Used. See below for a description of each.

New/Like New - This means the Intermediate Cold Weather Sleeping Bag was received by us still in its original packaging, with its original tags attached or no visible signs of use could be found.  In many cases, an item looks new and unused upon inspection, but to be sure, it is included in the Very Good Category.  In this condition, there may be slight dust or creases in the Military Issue Sleeping Bag due to storage by the Military.

Very Good - The item either appears to be in unused condition or has slight marks that show it was either issued and stored or was used several times at the most.  There will be no tears or rips in the fabric and all zippers and Velcro will be in fully functional condition.  The coloring will be in very good shape.  There may be dust on or folds in the fabric showing where it may have been stored for an unknown period of time.  If there are any apparent repairs, they are in this category if it is evident they were made either by the military or by the manufacturer and brought back to new specifications.

Used - This includes everything else, while still assuring that the Military Issue Intermediate Cold Weather Sleeping Bag is fully functional.  There will be no or minor rips or tears in the material.  However, there could be some slight discoloration or signs that the sleeping bag has been used.  In short, it is fully functional but will likely not look new.  There may also be signs of minor wear.  However, again, in this condition the sleeping bag is fully functional and will do everything it was designed to do when new.