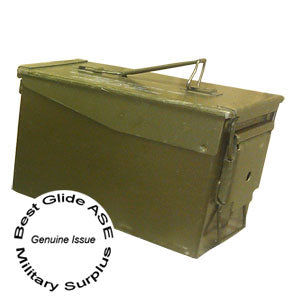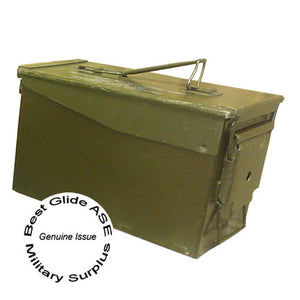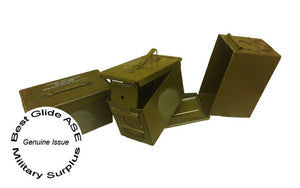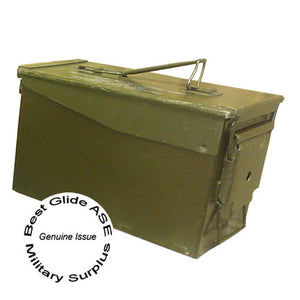 M2A1 Ammo Can
The M2A1 Ammo Can is U.S. Military Issue and is sold here as surplus. Because they are the genuine article, these Ammo Cans carry the U.S. Government NSN 8140009601699.

These cans are used and come in several qualities, though all are completely usable and the only differences are usually just cosmetic. All our categories are fully functional.

The 50 Cal Ammo Can, as it is commonly referred to, is used to store numerous calibers of ammunition by the U.S. Military prior to firing. They are made of heavy duty metal and include a heavy duty positive latching system and a rubber seal, which keeps out moisture and air. These  military surplus, heavy duty ammo cans are built to last.

These M2A1 Ammo cans measure approximately 11" x 7" x 5.5" and are the standard size. They are not the "Fat 50" cans.

We offer the M2A1 Ammo Can in several conditions, based on how hard they were used in the past. If one is not listed for sale, it means we are out of that particular category.

New/Like New: This category includes Ammo Cans which show no signs of use. They may have minor scratches on them from storage only, but overall are in like new, great condition.

Very Good: This category includes those that show some use, usually from being stored outside or thrown about after being emptied of ammunition. They may also include some spray paint that was used by the military to cover up markings that they chose to not have viewed by the public. This is not always the case.

Used: This category of Ammo Cans includes those cans that have had a little harder life. There may be some minor dents or notable rust spots on them. However, both have to be minor to fall into this category. All ammo cans are fully functional and are as airtight or water tight as the New/Like New or Very Good category. These usually go pretty fast because they are as functional as any other we sell, just not as pretty.