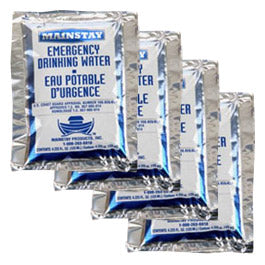 Mainstay Emergency Water Rations - Survivor Industries
All emergency water is not created equal! Survivor Industries spent years perfecting Mainstay ™ Emergency Water Packets. The final result is a Mainstay Emergency Water Packet which has a five year shelf life, needs no special storage, all at a very low cost.
We offer Mainstay Emergency Water Packets in quantities of 6 packets, 20 packets or a case of 60 packets.
Mainstay Emergency Water Rations are USCG approved, easy to transport and come in pre-measured emergency water packets making the water easy to dispense. Each Mainstay Emergency Water Packet contains 4.224 ounces (125 ml) of life saving water rations.
Specifications: * U.S. Coast Guard Approved * No Oxygen Transfer (no chance of bacterial contamination) *Pre-Measured Packets (4.224 oz ea) *Easy to Transport (18lbs per 60 packets) * -40 F to 210 F * Low Cost Water Ration * No Cups Needed
More about Survivor Industries In 1990, Survivor Industries researched and developed a new food product that can now be found world wide and is considered one of the most complete emergency food of its kind produced today (Mainstay Emergency Food Rations). Survivor Industries is also the producer of another unique product in which they package drinking water (Mainstay Emergency Water Rations) in convenient, pre-measured metallic sachets. It is easy and quick to dispense in time of rationing, and is very portable. The Mainstay Food, along with the Mainstay Water, are highly tolerable to temperature extremes and both have a five year shelf life approved by the United States Coast Guard.