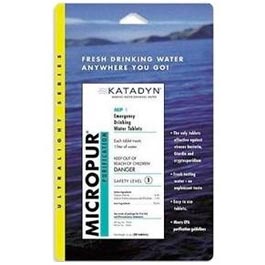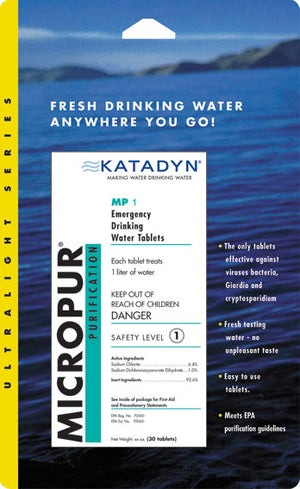 Micropur Water Purification Tablets - Katadyn
The Katadyn Micropur MP1 Water Purification Tablets are a prime example of Katadyn's reputation for quality and usability and are some of the best water purification tablets on the market today. Gone are the days of the old basic chlorine tablets. These emergency water purification tablets take care of the disease causing critters that the old water purification tablets cannot.
The Katadyn Micropur MP1 Water Purification Tablets provide fresh drinking water anywhere you go and are effective against viruses, bacteria, Giardia and Cryptosporidium. Unlike the older, less effective tablets, Katadyn Micropur MP 1 Water Purification Tablets produce fresh tasting drinking water with no unpleasant taste, are easy to use, and meet EPA purification guidelines.
The Katadyn Micropur MP1 Water Purification Tablets utilize Chlorine Dioxide as an active ingredient.  Each water purification tablet treats about 30 quarts of water.  They are offered in packages of 20 and 30.  They are a valuable addition to any survival kit, pack or camping kit.
Katadyn Micropur MP1 Purification Tablets News on August 27, 2009:  The US military has selected Micropur tablets to replace iodine tablets in soldier first aid kits. Micropur has safety benefits over iodine tablets and are the only purification tablet technology that meets the U.S. EPA safety guidelines. Even in dirty water conditions, Micropur MP1 tablets eliminate bacteria, cysts and viruses from virtually any water situation. Another improvement is that each Micropur tablet is individually wrapped and has a shelf life in excess of 5 years. Soldiers appreciate that Micropur has no unpleasant taste and can actually improve the taste of drinking water.