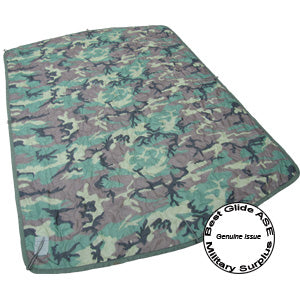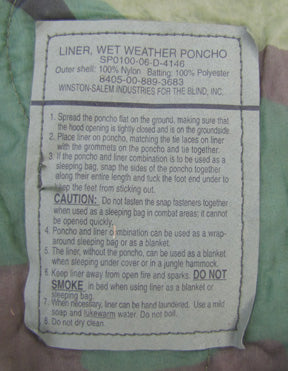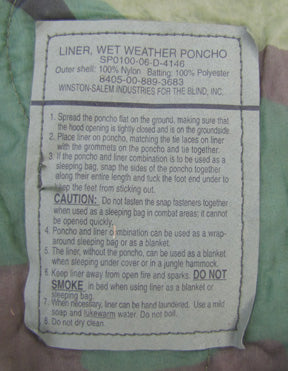 Wet Weather Poncho Liner - Woodland Pattern
The Military Wet Weather Poncho Liner is just the thing you need when the weather gets bad. Originally designed to line the inside of a soldier's Military Issue Poncho, this Made in the USA and U.S. Army Genuine Issue Poncho Liner is a very versatile piece of camping, hiking or survival equipment. Measuring approximately 5 feet by 7 feet, these modules have a 100% Nylon outer shell with a 100% Polyester batting. Included around the edge of the Poncho Liner are tie strings, originally designed to fasten the liner to a Military Issue Rain Poncho.  These are also great at fastening the Poncho Liner to just about anything.

This Poncho Liner is also a great recreational blanket making any outing warmer and more pleasurable. Try the Military Issue Wet Weather Poncho Liner as a light weight sleeping bag or blanket for a football game. Another great trait of these Poncho Liners is they dry quickly and easily if they happen to get wet!

Specifications:
Military Designation:  LINER, WET WEATHER PONCHO
NSN:  8405-00-889-3683
Origin:  Various U.S. Manufacturers (Made in USA)
Outer Shell:  100% Nylon
Batting:  100% Polyester
Size:  Approximately 5 ft x 7 ft

Our Military Issue (Woodland Camouflage) Wet Weather Poncho Liners are divided into three categories: New, Very Good and Used. See below for a description of each.

New/Like New - This means the Wet Weather Poncho Liner was received by us still in its original packaging or there are no visible signs of previous use.  In many cases, an items looks new and unused upon inspection, but to be sure, it is included in the Very Good Category.  These may have dust on them or have visible creases from storage by the Military.

Very Good - This means that the item either appears to be in unused condition or has slight marks that show it was either issued and stored or was used several times at the most.  There will be no tears or rips in the fabric and all ties will be in fully functional condition.  The coloring will be bright and non faded.  There may be dust on or folds in the fabric showing where it may have been stored for an unknown period of time.

Used - This includes everything else, while still assuring that the Military Wet Weather Poncho Liner is fully functional.  There may be minor rips or tears in the material, though they would be small.  There also could be some slight discoloration or signs that the poncho liner has been washed, which does not effect the functionality of the liner.  In short, it is fully functional but will likely not look new.  There may also be signs of minor wear in the corner and side ties.  However, again, in this condition the Poncho Liner is fully functional and will do everything it was designed to do when new.