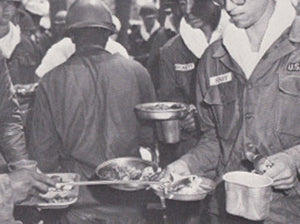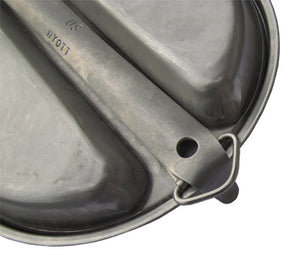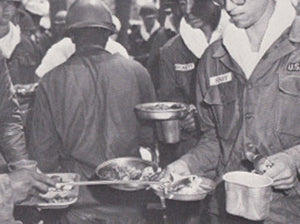 Military Mess Kit
The USGI Mess Kit has been issued to the U.S. Military for decades. Like so many quality survival items, our Genuine Military Issue Mess Kit is very simple, heavy duty and functional. Best of all, they are very inexpensive.  The Military Surplus GI Mess Kit includes a plate (which is also a steamer lid) and a pan with a handle for cooking.  The handle doubles as the latch to secure the mess kit together into one compact unit.

These Military Issue Mess Kits are the genuine Military Issue.  Please don't confuse these Made in USA Mess Kits with those that are called "military style", which are not Genuine U.S. Military Kits and are often not Made in the USA.

For decades, US Soldiers have used a Mess Kit like our Military Surplus Mess Kit.  These were originally called "Meat Cans" by the US Military.  This version has been in use since WWII.  There is not a theater of operation that has not seen this Mess Kit in use by U.S. Soldiers.  These include far reaching places such as France, Germany, Spain, North Africa, Korea, Vietnam, Grenada and Iraq.  These "Meat Cans", or Mess Kits, have been right there with our fighting men and women.

Our Genuine Military Surplus, Made in the USA, Mess Kits are made of heavy duty Stainless Steel.  Their two piece design allows for numerous cooking methods or use as a simple eating plate.  The twin compartment lid is designed to separate food items.  The larger pan may be used as a frying pan or to hold larger portions of food.  By securing the larger "cooking pot" to the "divided plate" portion of the kit, one can even use the Army Mess Kit as an oven or steamer of sorts.  This Military Mess Kit is very versatile.  The kit can be closed and used to carry small packaged food items or condiments as well as eating utensils. A clip on the lid allows it to be hung for washing or drying.

Some of our customers have used Genuine Military Issue Mess Kits as the container for a small survival kit.  Since there is ample room for small survival kit items, you can simply include these items inside prior to latching the whole unit shut.  Now, when an emergency strikes, you have one handy unit for both food preparation and survival.  This Military Surplus Mess Kit can even be used to treat drinking water when the need arises.

The Genuine Issue Military Surplus Mess Kit is a great gift for the occasional camper, seasoned hiker or prepared survivalist alike.

Our Military Issue Mess Kits are divided into three categories: New/Like New, Very Good and Used. See below for a description of each.

New/Like New - This means the Military Mess Kit was received by us still in its original packaging, with its original tags attached or no visible signs of use could be found.  In many cases, an item looks new and unused upon inspection, but to be sure, it is included in the Very Good Category.  In this condition, there may be slight scuffs or scratches on the Mess Kit due to storage by the Military.

Very Good - The item either appears to be in unused condition or has slight marks that show it was either issued and stored or was used several times at the most.  The Mess Kit will be in fully functional condition, as it is with all of our military surplus products.  The coloring will be in very good shape.  There may be scratches, scuff marks and even dirt in some cases caused by usage by U.S. Military Troops.

Used - This includes everything else, while still insuring that the Military Issue Mess Kit is fully functional.  In short, it is fully functional but will not look new.  There will be signs of wear and or usage.  However, again, in this condition the Military Surplus Mess Kit will be fully functional and will do everything it was designed to do when new.  It is often the case that a good cleaning and a little TLC will make the Genuine Military Issue Mess Kit look Very Good when purchased in this condition.