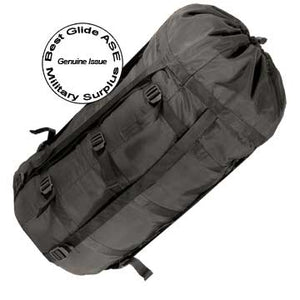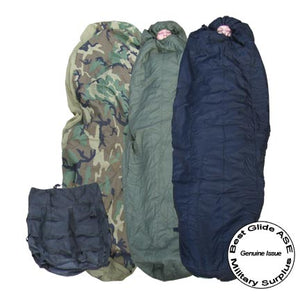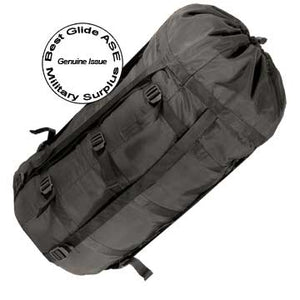 Military Sleep System Stuff Sack

The Genuine Military Issue Modular Sleep System Stuff Sack was designed to hold the elements of the Modular Sleep System tightly and compactly to allow for a soldier to be able to carry the Military Sleep System with him or her in the field.  However, the Military Compression Stuff Sack works for any sleeping bag or items you wish to compress to a small area.  It is includes straps that will allow you to tighten until the soft items underneath are of your desired compactness.  This compression sack is Genuine Military Issue and carries NSN  8465-01-398-5428.

The Compression Stuff Sack is constructed with water resistant materials with adequate volume for both bags as well as the Bivy cover, if you are purchasing this to hold our Military Modular Sleep System. This unique sack compresses the system to one cubit foot.

This will also compress anything to include clothes, towels, bedding, tarps and more. 

Specifications:

Designation:  MSS Stuff Sack
NSN: 8465-01-398-5428
Color:  Black
Length:  28" x 30"
Diameter:  12" x 19"
Material:  Water Resistant Nylon
Straps:  9
Extras:  Handle, Nylon Draw Cord, Dust Flap
Made in USA

Our Military Issue Modular Sleep System Stuff Sacks are divided into three categories: New/Like New, Very Good and Used. See below for a description of each.

New/Like New - This means the Military Compression Sack was received by us still in its original packaging, still retained its tags or/and showed absolutely no signs of use.  In many cases, an item looks new and unused upon inspection, but to be sure, it is included in the Very Good Category.  Before we call anything new, we need some information or indication that it is in unissued, unused condition.

Very Good - The item either appears to be in unused condition or has slight marks that show it was either issued and stored or had previous minimal use..  There will be no tears or rips in the fabric and all zippers, straps, buckles and Velcro will be in fully functional condition.  The coloring will be in very good shape.  There may be dust on or folds in the fabric showing where it may have been stored for an unknown period of time.  If there are any apparent repairs, they are in this category if it is evident they were made either by the military or by the manufacturer and brought back to new specifications.  On occassion, we will have our bag manufacturer make minor repairs as well, bringing the product back up to specs.

Used - This includes everything else, while still assuring that the Military Modular System Stuff Sack is fully functional.  There will be no rips or tears in the material, save some possible areas of use in the straps.  However, there could be some slight discoloration or signs that the Military Stuff Sack has been used.  In short, it is fully functional but will not look new.  There may also be signs of minor wear.  However, again, in this condition the compression stuff sack is fully functional and will do everything it was designed to do when new.