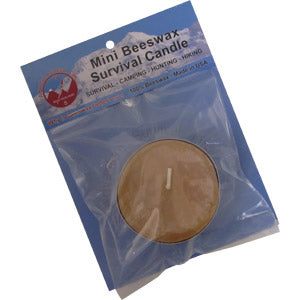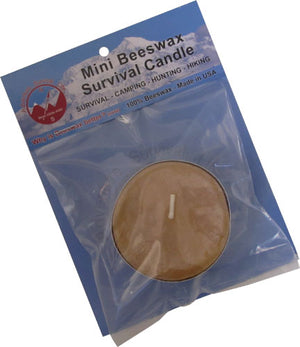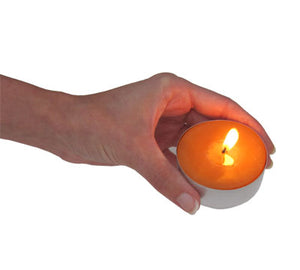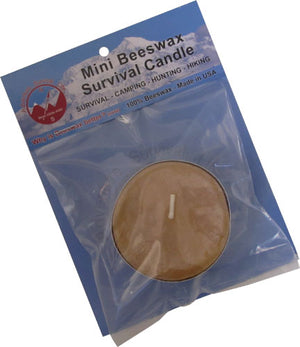 Best Glide ASE Mini Beeswax Survival Candle
The Mini Beeswax Survival Candle is designed to aid in keeping a person safe in a survival situation. We took the survival concept of having a candle to produce heat, provide light, light a survival fire, heat food and raise the spirits, one step further. Our Mini Beeswax Survival Candle burns brighter, cleaner, hotter and longer than other candles its size, making it the ultimate survival candle.

This survival candle will burn for up to 13 hours and fit in just about any kit, case or bag, making it also a very practical survival or sport tool. We recommend having a survival candle handy when faced with a survival situation. Uses include wilderness emergency, storm survival, natural disaster, adventure, scouting, hiking, camping, fire starting, aviation survival and much more.

We were looking for an all natural, Made in USA candle that would be perfectly suited for our new Adventurer Compact Survival Tin. While looking, we came across Beeswax Candles and started to do some research. In short, we found our perfect survival candle. Our Beeswax Survival Candles are made in the USA, using USA Honey Bees. The wick is 100% cotton which contains no lead or metal. Best of all, our Bee's Wax Candles burn much longer than traditional imported synthetic wax candles.

Why use 100% Beeswax instead of traditional paraffin wax?

Beeswax burns brighter, hotter, cleaner and longer.
Beeswax is all natural. We use 100% Pure Beeswax, unlike others.
Beeswax is usually smokeless and virtually sootless.
Even unscented, Beeswax emits a pleasant, mood lifting aroma.
Beeswax releases negative ions which actually clean the air.
Paraffin, NOT Beeswax, contains 11 different toxins.
Beeswax contains NO toxins.
Beeswax is nonallergenic.
Beeswax removes dust, pollen, smoke, pet dander and germs.

Cautions and Instructions:

NEVER leave a burning candle unattended.
Due to the higher melting point of Beeswax, it
is better to maintain a continuous burn of your
survival candle as opposed to numerous short
burns. This will maximize the burning of the wax
and minimize residual wax after use.
Specifications:

Stock # WSBEE5A
Series: Adventurer
Wt: 2.3 oz
Size: 2.5" x 1"
100% Beeswax (Most are not 100% beeswax. It makes a big difference)
Made in USA using USA Honey Bees and 100% USA Beeswax