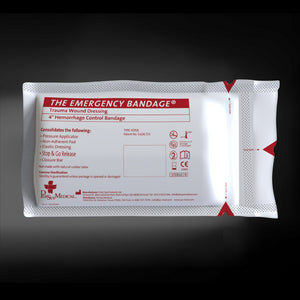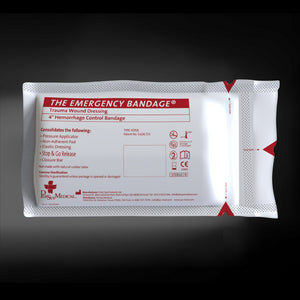 4" Multi-Purpose Emergency Bandage aka The Israeli Bandage (Civilian)
The 4" Multi Purpose Emergency Bandage aka The Israeli Bandage (Civilian)
is an ideal solution for emergency treatment, where ever second counts. The product consolidates many first aid devices such as: primary dressing, pressure applicators, secondary dressing and a closure bar into one unit. The Emergency Bandage was designed with the most extreme conditions in mind. Designed to treat every possible bleeding wound, the sterile, non-adherent bandage, applies pressure to any site, is easily wrapped, secured and acts as a tourniquet in cases of severe bleeding. Like the Emergency Trauma Bandage (military version), it is also designed so that it may be applied by the victim using only one hand. The Multi-Purpose Bandage is only available in white and was modified from the Emergency Trauma Bandage for civilian and first-responder use.
Would you like to know more about the Emergency Bandage?
STATISTICS:
* 90% of battle deaths occur in the pre-hospital phase * About half of all battlefield fatalities are due to hemorrhage bleeding * The majority of the hemorrhage occurs on the battlefield * Historically, hemorrhage is the single major cause of death among those killed in action * Up to 25% of battle casualties could benefit from rapid hemorrhage control * Trauma is the leading cause of death for persons aged 1-44 * Trauma causes more deaths annually in the U.S. than all diseases combined * Average EMS response time from report of injury to EMS arrival on the scene is 6-8 minutes * Average on-scene treatment time is 30-40 minutes * Average transport time to hospital is 8-10 minutes
The Emergency Bandage
was designed to be easily and quickly applied by non-medical personnel for immediate, accelerated hemorrhage control.
The bandage is deployable by an injured soldier, combat medic, or untrained first responder.
This compression, hemorrhage-control bandage has been used by many military and government organizations worldwide, including Special Operation units in the U.S. Army such as: The Rangers (Ft. Benning, GA), Dept. of Defense (Ft. Bragg, NC), US Air Force (Hurtlburt Field-FL, Albuquerque-NM, Pope AFB-NC, Andrews AFB-MD, Moody AFB-GA), US Army (Ft. Campbell-KY, Ft. Bragg-NC & Ft. Drum-NY), Womack Army Hospital (Ft. Bragg-NC), Martin Army Hospital (Ft. Benning-GA), Winn Army Hospital (Ft. Stewart-GA), Ft. Campbell Hospital (Ft. Campbell-KY), Ireland Army Hospital (Ft. Knox-KY), Navy (San Diego-CA), US Coast Guard (Norfolk-VA, Portsmouth-VA & Ketchikan-AK), Underwater Construction Team (Norfolk, VA), Naval Special Warfare (Virginia Beach-VA & San Diego-CA), Boeing Aircraft, Boeing Co., CIA, FBI, ATF, FairFax Fire & Rescue (Springfield-VA), Tactical Firearms Training Team, Canadian forces (Astra ON, Canada), French Army, Belgium Army, Israel Defense Forces., EMS services, and many more. The Emergency Bandage is superior to all known field dressings/bandages in its performance, consolidation of functions, versatility and innovation- saving time, storage space and money. It is also known as the Israeli Bandage, Military Compression Bandage and the Trauma Bandage. Statistically, the Emergency Bandage has been proven to significantly reduce hemorrhaging and improve survival.