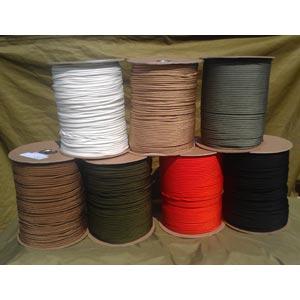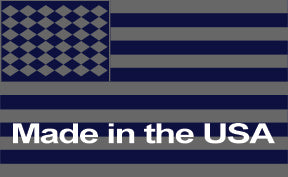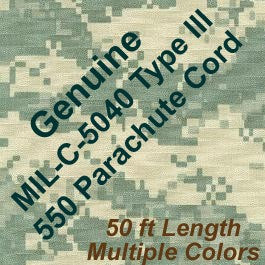 Genuine 550 Parachute Cord, MIL-C-5040 Type III
This is Genuine MIL-C-5040 Type III Parachute Cord is the official product used by the U.S. Military. Its military designation is MIL-C-5040 Type III and has a rated strength of 550 lbs.  
This Genuine Paracord is Made in the USA and is offered here in multiple colors and sizes.
Best Glide ASE is a trusted source for genuine MIL-C 5040 Type III.  Many of our survival kits are purchased by the U.S Government and are issued.  You can trust that the cord you receive from Best Glide ASE will be the real deal.   
The sturdy flexible "rope", often referred to as "parachute cord" or "550 cord", is actually used in the construction of parachutes. It is used to connect the canopy portion of the parachute to the part that the parachutist wears. There are a variety of colors and types of "550 cord" commonly sold. The genuine "550 cord" has a flexible outer cover, which contains 7 white nylon cords which when removed can be used for sewing or any other purpose that requires a strong thread. Our parachute cord is rated to hold 550 lbs before breaking, hence the name "550 cord". The uses of this cord are limited only by the user's imagination. 
Genuine MIL-C-5040 Type III Parachute Cord is perfectly suited for survival kits, first aid kits, camping gear, hiking gear, fishing gear and much more. With Genuine MIL-C-5040 Type III Parachute Cord, you can: wrap knife handles, lace up boots, build survival shelters, catch food (game and fish), make first aid splints, apply tourniquets, stop life threatening bleeding, mark a trail, restrict the movement of broken bones, make survival snares, assist with emergency signaling and much more. A cord like this is recommended for every outing where you will be away from civilization for even a brief time. Genuine MIL-C-5040 Type III Parachute Cord is one of those basic survival items that is dependable, inexpensive and can help save lives.