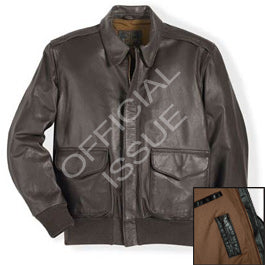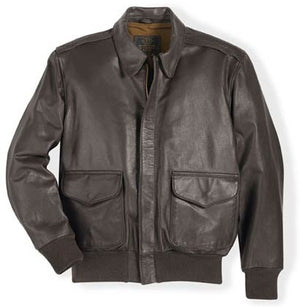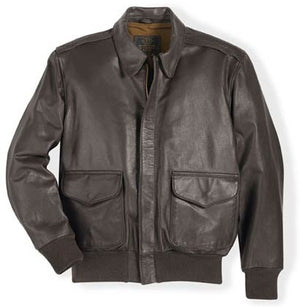 Official USAF 21st Century A-2 Flight Jacket - Cockpit USA
Clearance / Liquidation - Best Glide ASE has drastically reduced prices to sell off our limited remaining inventory.  
Cockpit USA (formerly Avirex LTD), the prime and only USAF government contractor for USAF Air Force issue A-2 Flight Jackets., now offers the updated and current 21st century version of the classic A-2 Air Force pilot's flight jacket, made out of the same luxurious Mil Spec government goatskin as earlier A-2 Flight Jackets.

The Air Force life support division listened to their pilots' requests to modify the 1987 version of the A-2 Flight Jacket to accommodate current needs. The Official USAF A-2 Flight Jacket now offers a host of new features which do not detract from its authentic appearance, but provide the user with modern day conveniences. These include hand warming pockets, underneath flap pockets, inside pockets for personal equipment and a special pen pocket inside. These A-2 Aviator Jackets are also roomier than previous versions of the Official A-2 Flight Jacket so order your regular size.
Because this is the real thing, the Official USAF A-2 Flight Jacket, it is proudly made in the U.S.A. Most other jacket manufacturers cannot honestly make this claim.
The Official USAF 21st Century A-2 Flight Jacket (Z21v41) is available in sizes 36 - 60 Regular and 40 - 60 Long. Please call for availability on large and Long sizes as there may be a short delay in shipping. We make every attempt to consistently be fully stocked, however, sometimes a large order depletes our inventory. Occasionally there might be a slight delay in shipping, however, this is rare. If a slight delay will inconvenience you, please give us a call to make sure your jacket is currently in stock.