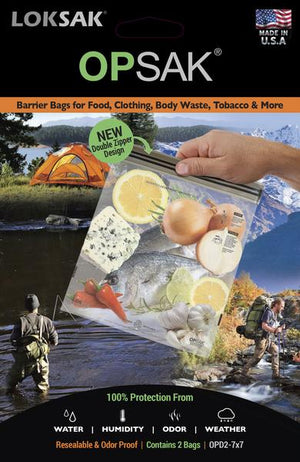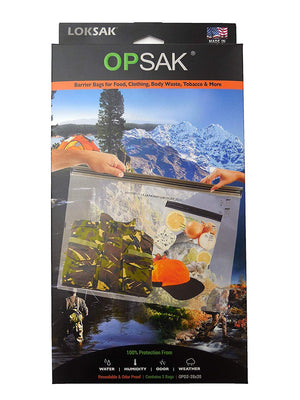 OPSAK Bags - OPEN BOX RETURNS, but LIKE NEW
Over the last few years, Best Glide has been accumulating OPEN BOX returns, this includes OPSAK Bags.  We can't sell them as new because the packaging has been opened and/or damaged.  However, the aLOKSAK bags themselves are LIKE NEW and have not been used - we have PERSONALLY INSPECTED all of them.
Please note that because they are OPEN BOX, LOKSAK, Inc will not warranty the bags.  However, Best Glide still offers our 100% Satisfaction Guarantee.  If you find that they are not LIKE NEW then you can return them to us for a full refund.
OPSAK are Military Grade, ODOR PROOF, re-sealable, flexible storage bags offering protection from all the elements. Made in the USA and utilizing five patents, this light-weight storage system prevents air, humidity, water, dust, sand, and even the passage of time from harming your electronics and valuables. The Made in the USA, OPSAK utilizes five patents for the Hermetic Seal, Flange, End Seal, Side Seal, and the durable 6 mm new generation film.
The Durable OPSAK 100% Odor Barrier Bag is designed to store food undetected in a camp site, or anywhere you don't want the smell of the items inside the bag, outside. This is most crucial when trying to keep animals away from your food stuffs.
It is ok to poor hot water in the bag to prepare food, as the bag is FDA approved.
Made in the USA

Odor Proof
Waterproof to 200 feet
Hermetic airtight seal
100% protection from water, sand, humidity, and snow
Touch screens and sound quality function 100% in the aLOKSAK
Reusable and recyclable
Military Grade 6 mm film
FDA, and NSA approved medical grade materials for food and biohazard storage
7" x 7" (2 Pack)
9" x 10" (2 Pack)
12" x 20" (2 Pack)
Each package contains two bags.
Please note that the sizes are Approximates.  And, the outer dimensions will differ from the inner dimensions.