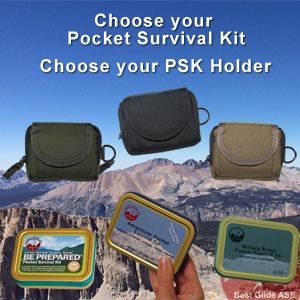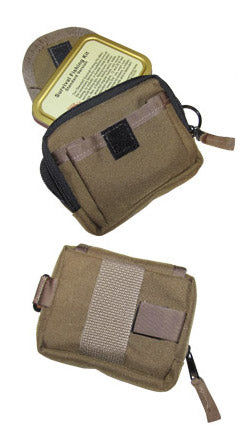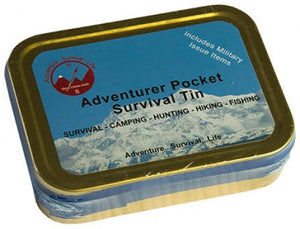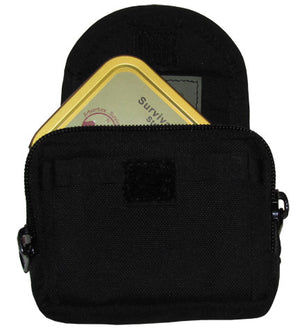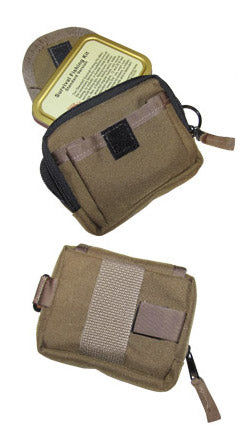 Best Glide ASE Pocket Survival Kit Combo Special
Welcome to our Special Offering of our Pocket Survival Kit Tin and the matching Survival Kit Tin Belt Holder.  Our special lets you choose, for one low price, one of our Pocket Survival Kits (Best Glide ASE Pocket Survival Kit, Best Glide ASE Military Scout Pocket Survival Kit or the Boy Scout Be Prepared Pocket Survival Kit) and a high quality Best Glide ASE Personal Survival Kit Tin Holder, in your choice of colors (OD Green, Black or Coyote Brown).  Below is a short description of each kit with a link.  Click on the links above or image below for a longer description if you wish to see more details about each kit or the PSK Holder designed for this series of survival kits.  All three kits are some of the best quality, true, pocket survival kits on the market today.  

The Best Glide ASE Pocket Survival Tin kit also includes outdoor grade survival information stickers so you can customize your kit with the information you deem the most crucial. (includes two)

Best Glide ASE Pocket Survival Tin Contents:

(1) Weather Resistant Tin Container (Includes Rubber Seal), (1) Adventurer Button Compass (NATO/U.S. Military Issue), (10) All Weather Survival Matches (NATO/U.S. Military Issue), (1) Derma Safe Razor Knife (U.S. Military Approved), (1) Sewing Kit w/6 Safety Pins (Assembled in USA), (6) MP1 Water Purification Tablets (U.S. Military Issue), (1) Adventurer Survival Whistle (SOLAS/NATO Approved), (1) Mini Survival Fishing Kit (Assembled in USA), (1) Vinyl Tape Waterproof Kit Seal, (1) Type 1A Utility Cord (U.S. Military Approved), (1) Brass Snare Wire (Trapping and Equipment Repair), (1) Emergency Signal Mirror (Daytime Emergency Signaling), (2) Beeswax Candles (Made in USA), (1) Compact Flint Fire Starter w/Striker (Adventurer Series), (3) Fire Starter Tinder Tabs (Adventurer Series) , (1) Adventurer Fresnel Lens Fire Starter (Adventurer Series) , (6) Band Aids/Butterfly Bandages, (1) Pocket Wire Saw (Made in USA), (2) Industrial Grade Tie Wraps, (1) Water Bag, (1) Survival Instructions (Made in USA), (1) Pencil, (1) Silica Gel Desiccant (Moisture Absorbent), (2) Survival Instruction Labels (Made in USA)

The Best Glide ASE Military Pocket Survival Tin, used by the U.S. Military, differs from the civilian Adventurer Pocket Survival Tin version with the addition of special, airtight packaging, subdued labeling and the removal of the Survival Kit Tin Stickers, which still may be purchased separately.

Military Scout Pocket Survival Tin contents:

(1) Weather Resistant Tin Container (Includes Rubber Seal), (1) Mil Spec Outer Packaging for maximum protection of the survival kit (Mil-Prf-81705 Type 1), (1) Adventurer Button Compass (NATO/U.S. Military Issue), (10) All Weather Survival Matches (NATO/U.S. Military Issue), (1) Derma Safe Razor Knife (U.S. Military Approved), (1) Sewing Kit w/6 Safety Pins (Assembled in USA), (6) MP1 Water Purification Tablets (U.S. Military Issue), (1) Adventurer Survival Whistle (SOLAS/NATO Approved), (1) Mini Survival Fishing Kit (Assembled in USA), (1) Vinyl Tape Waterproof Kit Seal, (1) Type 1A Utility Cord (U.S. Military Approved), (1) Brass Snare Wire (Trapping and Equipment Repair), (1) Emergency Signal Mirror (Daytime Emergency Signaling), (2) Beeswax Candles (Made in USA), (1) Compact Flint Fire Starter w/Striker (Adventurer Series), (3) Fire Starter Tinder Tabs (Adventurer Series), (1) Adventurer Fresnel Lens Fire Starter (Adventurer Series), (6) Band Aids/Butterfly Bandages, (1) Pocket Wire Saw (Made in USA), (2) Industrial Grade Tie Wraps, (1) Water Bag, (1) Survival Instructions (Made in USA), (1) Pencil, (1) Silica Gel Desiccant (Moisture Absorbent)

The Be Prepared® Pocket Survival Kit, officially licensed by the Boy Scouts of America, also includes outdoor grade survival information stickers so you can customize your kit with the information you deem the most crucial (includes two).

Be Prepared® Pocket Survival Kit contents:

(1) Weather Resistant Tin Container, Includes Rubber Seal, (1) Adventurer Button Compass, NATO/U.S. Military Issue, (10) All Weather Survival Matches, NATO/U.S. Military Issue, (1) Derma Safe Razor Knife, U.S. Military Approved, (1) Sewing Kit w/6 Safety Pins, Made in USA, (4) MP1 Water Purification Tablets, U.S. Military Issue, (1) Rapid Rescue Survival Whistle, SOLAS Approved, NATO Issue, (1) Mini Survival Fishing Kit, Made in USA, (1) Vinyl Tape, Waterproof Kit Seal, (1) Type 1A Utility Cord, U.S. Military Issue/Approved, (1) Brass Snare Wire, Trapping and Equipment Repair, (1) Compact Emergency Signal Mirror, Daytime Emergency Signaling, (2) Beeswax Candles, Made in USA, (1) Compact Flint Fire Starter w/Striker, Adventurer Series, (3) Fire Starter Tinder Tabs, Adventurer Series, (1) Adventurer Fresnel Lens Fire Starter, Adventurer Series, (6) Band Aids/Butterfly Bandages, (1) Pocket Wire Saw, Made in USA, (1) Water Bag, (1) Survival Instructions, Made in USA, (1) Pencil, (1) Silica Gel Desiccant, Moisture Absorbent, (2) Survival Instruction Labels, Made in USA

Boy Scouts of America®, the Universal Emblem, and Be Prepared® are either registered trademarks or trademarks of the Boy Scouts of America in the United States of America and/or other countries. Manufactured under license from the Boy Scouts of America. All rights reserved.

Best Glide ASE Personal Survival Kit (PSK) Tin Holder - Made in the USA  (Available in OD Green, Coyote Brown, and Black)
The Personal Survival Kit Holder is designed to fit kits measuring a maximum of 4.5" x 3.5" x 1.25". This Survival Kit Holder is made of 1000 Denier Cordura with a 3/4 oz water repellent backing, a YKK Self Healing Zipper, Mil Spec webbing and Mil Spec hardware. The rear of the (PSK) Personal Survival Kit Tin Holder is equipped with a belt loop that will accept up to an 2 1/2" belt or strap. One auxiliary loop and one D Ring allow for additional numerous attachment options, to include a carabiner. An additional lay flat pocket is included under the protective flap for small objects such as the Adventurer Pocket Camper Survival Tool , Military Glass Signal Mirror, NATO Survival Matches, survival compass or any small item you would like to have easy access to.

The Best Glide ASE Personal Survival Kit (PSK) Holder is a no nonsense, durable and inexpensive accessory for any small survival, first aid or survival fishing kit to include: the Adventurer Pocket and Military Scout Pocket Survival Tin, The Be Prepared Boy Scout Pocket Survival Tin, the Adventurer Pocket Survival Candle, the Best Glide Standard Fishing Kit, the Best Glide Survival Kit Tin (empty) and numerous other small survival and fishing kits on the market today.

PSK Specifications:

1000 D Cordura, YKK Self Healing Zipper, 3/4 oz Water Resistant Backing, Mil Spec Hardware and Webbing, Mil Spec Construction, Main Compartment, 4.5" x 3.5" x 1.25" (approx), Fold Flat Front Pocket, Zipper Silencer, Top Protective Flap, Belt Loop, Aux Attachment Loop and Rear D Ring
Colors:  Army OD Green, Covert Black, Military Coyote Brown, MADE IN THE USA

But wait, you might like to add the Full Set of our Best Glide ASE Survival Kit Tin Stickers.

These outdoor quality, vinyl, Survival Information Stickers provide some basics for outdoor survival. Not intended to take the place of proper training or a good survival manual, these survival stickers provide useful tips, tricks and information for survival in the wilderness.

The current Survival Kit Sticker selection includes stickers for the following: Morse Code, Ground to Air Signals, Survival Fishing Tips, Emergency Contact Information, Survival Priorities, Survival Signal Mirror Sticker and Severe Bleeding and Shock (General Tips).

The Be Prepared Survival Kit Tin and the Adventurer Survival Kit Tin already include two of the seven.

Note: Minor substitutions of kit contents are sometimes made based on product availability.