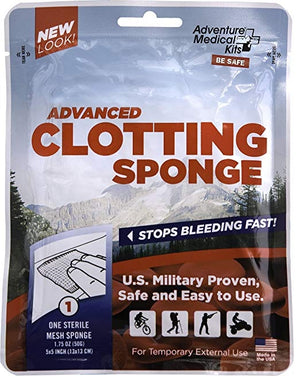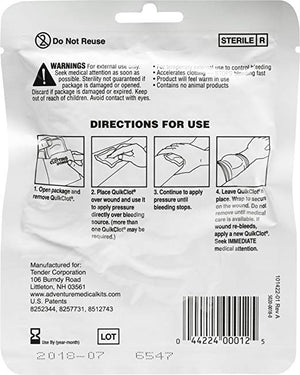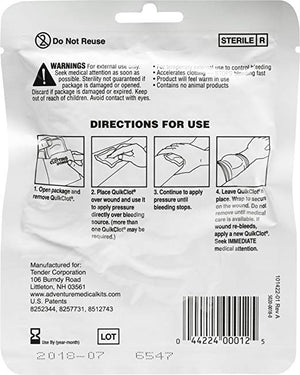 QuikClot Advanced Clotting Sponge - 50 gram
The QuikClot Advanced Clotting Sponge 50 gram uses technology tested and proven through years of combat use by the U.S. Military. This hemostatic dressing in a sponge includes zeolite beads that work on contact to stop bleeding three times faster by accelerating your body's natural clotting process and rapidly absorbing water molecules from the blood, leaving the larger platelets and clotting factors behind in a concentrated form. The pre-hydrated zeolite is non-allergenic, naturally-occurring mineral that is safe and effective to use. This extremely absorbent sponge is flexible and pliable, easily contouring to wounds.
Stop Bleeding Fast - Control bleeding with the hemostatic sponge that works on contact to accelerate your body's natural clotting process, clotting blood three times faster. The sponge contains zeolite, an inorganic mineral which works quickly to induce clotting by removing excess moisture and concentrating blood platelets.
Trusted by Professionals - Choose the hemostatic agent that's tested and proven by years of combat use by the U.S. military. Zeolite has proven its effectiveness in stopping bleeding rapidly when every second counts.
Safe & Effective - Apply this hemostatic sponge without fear. A naturally occurring, non-allergenic mineral, the pre-hydrated zeolite does not contain botanicals or animal and human proteins and is demonstrated to be an effective clotting agent.
Easy to Use & Remove - Act quickly and with confidence in emergencies. The Advanced Clotting Sponge easily conforms to wounds – simply apply the sponge to the source of the bleeding and apply pressure. The sterile, non-adherent mesh bag is easy to remove from the wound for further treatment by medical professionals.
Compact & Convenient - Add this clotting agent to your trauma kit, glove box, emergency medical kit, range bag, first responder kit, purse, or first aid kit for the power to stop bleeding at a moment's notice.
Size: Approx 5 inches x 5 inches
SKU: MP1269