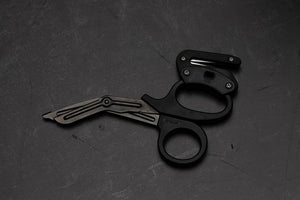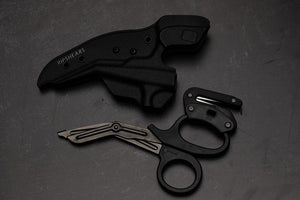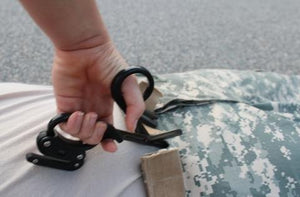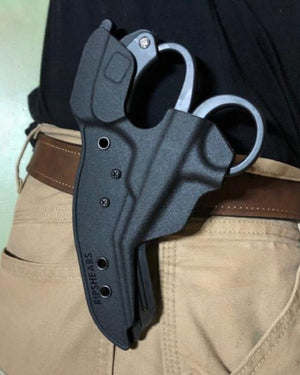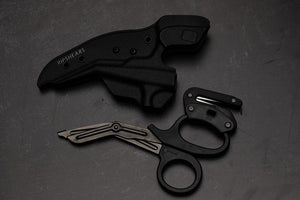 RIPSHEARS RS-2
When operating in the field, speed and stealth are essential to survival.  RIPSHEARS RS-2B maintains a low profile with our line of high-quality 420J surgical stainless steel shears bonded with a black Titanium Carbon Nitride (TiCN) coating and tactical black. Ideal for those operating in urban, maritime, or other austere environments.
RIPSHEARS will easily slice through multiple layers of clothing, denim, leather, neoprene wetsuits, chemical biological and radiological suits (CBRN), bandages, sports wraps, plastic packaging, seat belts and much more! RS-2 RIPPER features an integrated O2 wrench and our proprietary, user-replaceable DLC-coated 440A stainless steel razor blades and stainless steel screws/sleeves.
Instructions:
Step 1:  Pick your line.  When possible, pick a line that avoids pockets, zippers, velcro, etc.
Step 2:  Always make a pilot cut. Use the shear portion to get through the first seam, collar, belts, straps, etc.  Our product will be more effective if you stick to this principle while working on patients. 
Step 3:  Insert your Ripper into the pilot cut while supporting the fabric just above.  When ready, pull briskly.  If you hit any snags quickly reset your off hand just above the shear and reset the hook. 
Specifications and Dimensions:
Scissor Blades made with 420-stainless steel hardened to Rockwell 56C

Unique Titanium Carbo-Nitride (TiCN) coating increasing edge retention 9x longer than hardened steel; 4,500 on the Vickers (Hv) hardness scale

All-over black color carbon bonded

Precision sharpened upper edge

30% deeper enhanced serrated lower edge cuts through the toughest materials

Clothing-lift lip and rounded tip for ultimate patient safety

Contoured handles made from a single mold for maximum fit and control

Available in Black, Coyote, OD Green

Color matched handle and RIPPER

Length 7.25 inches

Width 5 inches

Depth 0.625 inches

Weight 3oz