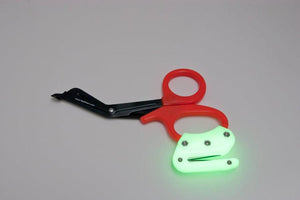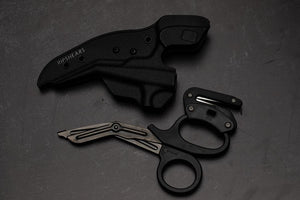 Ripshears RS-3 Firefly
After countless reports of first responders losing their shears at nighttime accident scenes, Ripshears developed their RS-3F FIREFLY as a high-visibility solution under any lighting conditions. Day or night, you'll be able to find your equipment.  Ripshears added fluorescent orange handles to their 420J stainless Titanium Carbon Nitride (TiCN) shears and infused their reinforced polymer RS-3 FIREFLY RIPPER with Glow-In-The-Dark (GITD) pigment to provide hours of luminescence in low-light scenarios.
RIPSHEARS will easily slice through multiple layers of clothing, denim, leather, neoprene wetsuits, chemical biological and radiological suits (CBRN), bandages, sports wraps, plastic packaging, seat belts and much more! RS-3 FIREFLY RIPPER features proprietary, user-replaceable DLC-coated 440A stainless steel razor blades and stainless steel screws/sleeves.
The RIPSHEARS RS-3 FIREFLY RIPPER unit will bolt onto many standard 7.25"-7.5" trauma shears, but is optimized to fit Ripshears TiCN trauma shears. Made with Glow-In-The-Dark reinforced polymer, user-replaceable tungsten DLC-coated 440A stainless steel razor blades, and stainless steel hardware.

Note: RS-3 RIPPER is not compatible with Clauss or NAR scissors without modifying the shears' lower handle.
Instructions:
Step 1:  Pick your line.  When possible, pick a line that avoids pockets, zippers, velcro, etc.
Step 2:  Always make a pilot cut. Use the shear portion to get through the first seam, collar, belts, straps, etc.  Our product will be more effective if you stick to this principle while working on patients. 
Step 3:  Insert your Ripper into the pilot cut while supporting the fabric just above.  When ready, pull briskly.  If you hit any snags quickly reset your off hand just above the shear and reset the hook. 
Specifications & Dimensions
All RS-3 Models include RIPPER with advanced glow-in-the-dark technology imbues the material with an "afterglow" effect that lasts for up to 8 hours, which is about 10 times longer than traditional GITD technologies

RS-3F Orange handle comes with Titanium Carbo-Nitride (TiCN) same as all tactical colored models

RS-3P Pink has a Titanium Nitride (TiN) gold coating improving edge retention by 3X over hardened stainless steel
Length 7.25 inches

Width 5 inches

Depth 0.625 inches

Weight 3oz