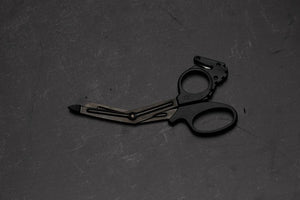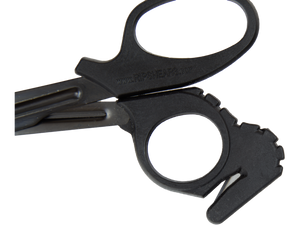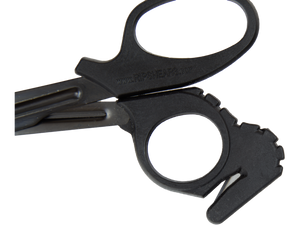 RIPSHEARS RS-4 MINI
RIPSHEARS RS-4 MINI is a compact single blade hook knife built into 5.5" TiCN-coated 420J stainless steel trauma shears. Perfect for IFAKs and other medical kits, as well as operators, first responders, and EMS professionals requiring smaller, more streamlined equipment. Despite their small size, our RS-4 Minis will outperform many brands of larger 7.25" trauma shears.
Instructions:
Step 1:  

Pick your line.  When possible, pick a line that avoids pockets, zippers, velcro, etc.

Step 2:  

Always make a pilot cut. Use the shear portion to get through the first seam, collar, belts, straps, etc.  Our product will be more effective if you stick to this principle while working on patients. 

Step 3:  

Insert your Ripper into the pilot cut while supporting the fabric just above.  When ready, pull briskly.  If you hit any snags quickly reset your off hand just above the shear and reset the hook. 
Specifications and Dimensions:
All RS-4 Models include a unique single blade hook knife molded into the thumb side of the shear.

RS-4 come with black handle and our signature Titanium Carbo-Nitride (TiCN) bonded coating.

RS-4 comes standard with a beefed up, black nickel plated grommet.
Length 6.25 inches

Width 4.25 inches

Depth 0.30 inches

Weight 2oz