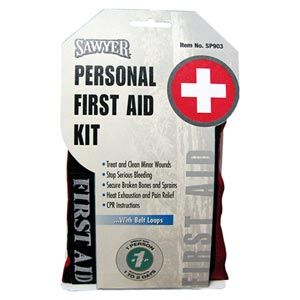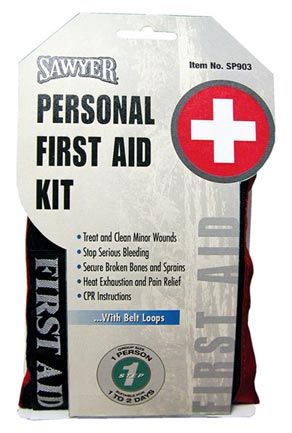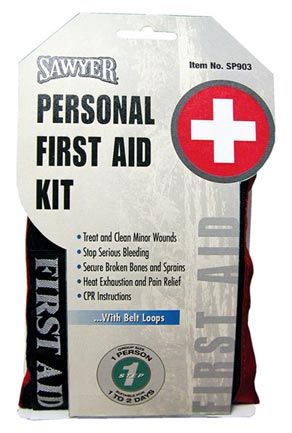 Sawyer Personal First Aid Kit

The Sawyer Personal First Aid Kit, otherwise known as the Sawyer Step 1 First Aid Kit, includes those items most needed to clean, treat and protect minor to moderate scrapes, cuts and abrasions, stop serious bleeding, secure broken bones/sprains, treat heat exhaustion, provide pain relief and administer life saving CPR.

Even a simple first aid kit, though not a trauma kit, provides necessary wound treatment in a survival situation.  The Sawyer Personal First Aid Kit includes another innovation that most first aid kits do not have.

The problem with so many survival and first aid kits is that they never seem to be available when you need them because they are simply not convenient to carry.  This is not true with the Sawyer Personal Survival Kit which includes belt loops for easy attachment to a pack, bag or yes, even a belt.

This small pouch is suitable for 1-2 people for 1-7 days and includes the following items for WOUND CLEANING and DISINFECTION:

PVP Iodine Wipe- 2 each
Ointment- 2 each
Alcohol Pad- 4 each.

WOUND PROTECTION:

3-inch by 3-inch Gauze Pad- 1 each
2-inch by 3-inch Gauze Pad- 2 each
Extra Large Bandage- 1 each
Knuckle Bandage- 1 each
Tape Strips- 2 each
Mini/Junior Strips- 5 each
Standard 3/4-inch Bandage- 6 each
2-inch Gauze Roll- 1 each

SPECIAL CARE:

Sting Care Wipe- 2 each

INSTRUCTIONS:

First Aid Manual- 1 each.