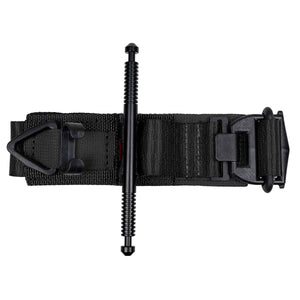 SOF® Tactical Tourniquet
The patented SOF® Tourniquet was designed by a Special Forces medic while on deployment in Afghanistan in 2003 to save lives. It is still the preferred tourniquet for elite military forces and emergency responders worldwide. 
 The newest evolution of the SOF® Tourniquet sets the benchmark for prehospital tourniquets. Purposeful upgrades allow for smoother and faster one-handed and two-handed applications for the most effective bleeding control.
 
Its innovative design comes from years of extensive research, material testing, and end-user feedback on and off the battlefield. It continues to evolve with your changing medical response needs when bleeding control is needed most. The SOF® Tourniquet easily slides over an arm or leg. It unclips at the buckle to fit around hard-to-reach areas, such as a trapped limb.
 
In developing the SOF® Tourniquet, we asked customers about their experiences and the features that would be most important to them. The feedback gathered is shown in the tourniquet's improved design and effectiveness. It is stronger, lighter, and easier to use so you can stop the bleed anywhere life takes you.
Noteworthy Upgrades in the New SOF® Tourniquet:
1) Performance Compression Band
Completely redesigned webbing maximizes compression during the application process. At a true 1.5" width, the new performance material glides through the Rugged Buckle for quick, snag-free operation and minimizes loss of pressure over time after application.

2) Slack Indicator Wedge
Stitched into the Performance Compression Band below the windlass. The contrasting wedge offers a visual confirmation you have pulled all excess slack from the band. This is a critical step for proper tourniquet application and results in fewer windlass rotations required to reach occlusion. 

3) Rugged Buckle
Engineered to remove excess slack in a single fluid motion. The buckle's shape stabilizes the Performance Compression Band at any angle of engagement. The new Rugged Buckle is an advanced, lightweight composite design with superior strength over previous versions.
 4) High-strength Aluminum Windlass
Machined from a single aircraft-grade aluminum bar stock, the 5.5" windlass features signature conical ends and grip-friendly texture for consistent torque. Its anodized finish minimizes impacts from environmental elements for durability in any scenario.

5) Tourniquet Retention Assistance Clip™ (TRAC)Conveniently holds the windlass in place until you can secure it into the Tri-Ring Lock™. The Trac provides steady handling during tough applications and enhances control for one-handed movements.
6) Tri-Ring Lock™
Complete the tourniquet application by securing the wubdlass into the Tri-Ring Lock. It can easily be manipulated with just one hand and prevents the windlass from shifting during patient movement.
7) Time tag
A tag for documenting the tourniquet application time.