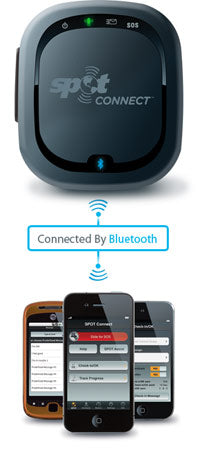 SPOT Connect GPS Messenger
Introducing SPOT Connect, the newest SPOT satellite messaging and emergency communicator.

The NEW SPOT Connect GPS Messenger is the newest addition to the amazing line of SPOT Satellite Communicators. By using your smart phone, this SPOT allows you to send text messages in addition to providing all of the valuable tracking information of the SPOT Satellite GPS Messenger. The main difference is that the SPOT Connect allows text messages and also requires pairing with a smart phone. The SPOT Satellite GPS Messenger is stand alone and won't provide for custom text messaging.

Specifications:

Size: 3.0 X 2.6 X 1.2"
Approximate Weight: 4.9 oz
Power: 2 AA Energizer™ Lithium Ultimate 8X (L91)
Operating Temperature: -25C to +60C
Operating Altitude: -100m to 6,500m (-328ft to 21,320ft)
IPX7 Waterproof: Up to a depth of 1 meter for up to 30 minutes
Bluetooth range: approx. 30 feet
Certifications: FCC, IC, WEEE, SAR, RoHS, CE
GPS Accuracy: 32.8 ft location accuracy
Visibility: 1 to 4 satellites at a time (more for SOS detection than anyone else)
Compatibility: (***)
Apple iOS: Made for iPod touch® (2nd, 3rd and 4th generation), iPhone® 4, iPhone 3GS, iPhone 3G*
Android™: Platform 2.0 or later*

No cell signal? No problem. Turn your smartphone into a satellite communicator with SPOT Connect.


Today's smartphones provide a level of social connection far beyond what we imagined just a few years ago. But when you go beyond the reach of the grid, your smartphone needs the help of SPOT Connect to keep you in touch with friends, family, and emergency personnel. Simply pair your smartphone with SPOT Connect, and get connected to a global satellite network that lets you send messages and GPS coordinates from virtually anywhere on the planet.

Update Twitter and Facebook. Send email and text messages. Request non-emergency help from professional service providers. And in the case of a critical emergency, send an SOS message requesting emergency assistance.

What are Spot Connect's key features?

That is the best part. The Spot Connect GPS Messenger goes above and beyond.

Send messages from almost anywhere via satellite
Type & Send message (41 character) or predefined message (120 character) options*
Track Progress on Google Maps™ or SPOT Adventures page
Integrates with SPOTadventures.com and popular social destinations
Smartphone app for operation and detailed status
On device SOS button for standalone emergency operation



What do I have to buy?

The SPOT Connect GPS Messenger makes it easy!

All you need is:

1. The SPOT Connect Messenger
2. SPOT Satellite Service
3. An approved Smart Phone

Apple iOS: Made for iPod touch® (2nd, 3rd and 4th generation), iPhone® 4, iPhone 3GS, iPhone 3G*

Android™: Platform 2.0 or later*

The basic SPOT Satellite Tracking Service is $99.99 a year. That's right, not a month, a year. You can add a supplemental tracking service, that tracks you about every ten minutes, for an additional fee. Also, texting packages are available. See www.findmespot.com for more information on current pricing. Be sure to check before purchase to make sure their pricing has not changed.

Simply purchase your service online with SPOT and you are ready to go. It takes about 10 minutes!

Functional Specifications:

SPOT features four key functions that enable users to send messages to friends, family or emergency responders, based upon varying levels of need:

SOS/911: Activate the SOS mode to begin sending your GPS location to the GEOS International Emergency Response Coordination Center (IERCC). Add a custom message to update responders of your condition. The IERCC alerts the appropriate agencies worldwide – for example contacting 9-1-1 responders in North America and 1-1-2 responders in Europe.

Help: Use the Help mode to send either custom Type & Send or Predefined messages to recipients in your contact list for non-life threatening assistance.

Check-in/OK: Use Check-in/OK mode to send your messages and your location to friends and family. These messages can also be simultaneously sent to your Facebook and Twitter accounts. Your waypoint is stored in your SPOT account for later reference. Your stored waypoints can be easily integrated into a SPOT Shared Page or SPOT Adventures account.

Track Progress: Start/stop tracking at any time using the SPOT Connect App. (Additional service required). You can also mark a Reference Point or send Check-in/OK messages from specific locations while in Track Progress mode.

Type and Send: Use SPOT Connect to send custom email and text messages via satellites to your contacts. Create up to 41 character SOS, Help and Check-in/OK messages. Messages will be sent directly to the contact groups you select via email or SMS. You can even post custom messages on Twitter and Facebook. If you encounter problems, you can send custom SOS messages describing your situation, with your GPS position included.

Social Networks: Don't lose the connection to your social networks when you venture off the cellular grid. SPOT Connect with the basic service package enables you to send Predefined messages to your favorite social destinations. The Type & Send function allows you to create short custom messages in the field, which you can send to social destinations or specific contacts via email or text message.