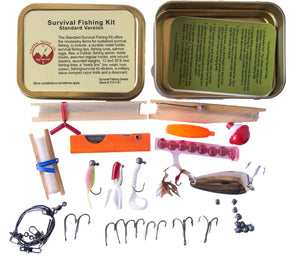 Best Glide ASE Standard Emergency Survival Fishing Kit
The Standard Emergency Survival Fishing Kit is an exceptionally well stocked, durable, quality and inexpensive survival fishing kit. It was designed as a collaborative effort between survivalists and avid fishermen.
Best Glide, who has supplied their kits to numerous government agencies, offers three levels of Survival Fishing Kits, the Standard Emergency Survival Fishing Kit is the largest of the three kits.
The Best Glide Survival Fishing Kit comes in a durable tin container which is sealed with water resistant tape. If that is not enough, we have included a Silica Gel Desiccant inside, just to make sure your survival fishing kit stays dry.
We also changed the type of knife usually included in such survival fishing kits. Instead of a basic razor blade, the Best Glide Survival Fishing Kit includes a Military Approved Derma-Safe Utility Knife.
Adding to the list of innovations, we also included a pre-made fishing line, ready for survival fishing. Rounding out the utility of the Standard Emergency Survival Fishing Kit is a brief fishing manual written by fishing enthusiasts and survival kit tin stickers, another Best Glide ASE innovation. The manual and stickers include suggestions and techniques that increase your chances of catching fish, the basics of setting up your line and fishing knot tying.
CONTENTS:
Manual
Fishing Tips and Instructions
Fishing Kit Tin Stickers
(2) Jig
(1) 2" Swirl Tail Grub Jig
(1) Tiny Shad Jig
(1) 1 1/2" Tube Jig Spoon
(1) 1/4 oz. Bait - Tube of Salmon Eggs or Crappie Nibbles
(1) Size 8 Fly
(1) Size 10 1/8 Fly
(1) Moisture Absorbing Packet
(1) Folding Razor Knife
Hooks - (2) Treble Hooks - (3) #4 Hooks - (3) #6 Hooks
(3) #8 Leaders
(4) Wire Wound Leaders
(4) BB Split Shot
(4) 3/0 Split Shot
(1) ¾" Bobber
(50 Ft) 12LB Line
(25 Ft) 30LB Ready Line - (Line, Bobber, Sinker, Hook)
Assembled in the USA
Exceeds Alaska/Canada Over Flight Requirements
More about Best Glide Survival Fishing Kits:
Woodsmonkey.com had this to say this about Best Glide Survival Fishing Kits:
"The contents of the Standard kit are downright impressive. The kit contains plenty of components, and in a survival situation more is always better."
"These two kits from Best Glide are pretty impressive. The Compact kit will serve the ultra-light backpacker in the event of an emergency when it's necessary to focus on food. If weight is critical, with the 6mil pouch containing the Compact kit is the way to go. For a long trip, or when it may be necessary to support several people in an emergency, the Standard kit is an excellent choice."
Be sure to check out our Personal Survival Kit (PSK) Holder that fits this kit perfectly. It is made from Military Spec Materials, 1000 denier Cordura and YKK Zippers, right here in the USA.
Or, for a simpler solution, add our Survival Basics Accessory Pouch to your order. This bag was designed to supplement several of our kits to allow one to add a few more items to the kit as well as protect it from the elements following opening.
Our Survival Kit Tin Stickers are also a great enhancement to your kit. They contain life saving information in a sticker form, so it can be right where you need it in an emergency.